Commercial Drop Spreader
The DSC-7200 Drop Spreader is built to last with quality stainless steel. This re-designed and updated unit is sure to be a long standing fixture on your farm.
Different Uses:
Fertilizer
Sand
Lime
Salt
Cover crops
Other materials
The DSC-7200 drop spreader is big enough and tough enough to handle all of your farming or landscaping needs. The 7200 is the Commercial Drop Spreader from the DSC line that is perfect for tackling big projects like running your landscaping or snow removal business, managing your farmette, or maintaining your large property. Its 72" long, stainless steel hopper can hold over 11 cubic feet of material and it operates off of a ground drive!
You can pull your 7200 commercial drop spreader with an ATV, UTV, lawn mower, or compact tractor. All DSC drop spreaders have 15 different manual settings that you can use to customize the way you get your work done. The durable American manufacturing and fully enclosed hopper with locking lid ensures that you can use your DSC drop spreader year-round and in any conditions. 12" wide tires cut down on any tracks or ruts that could be caused while using the 7200.
Conestoga's Model DSC-7200 Drop Spreader is our commercial drop spreader. Just like its smaller counterparts, the DSC-4800 and DSC-6000, the 7200 includes features that ensure ease of use and durability. And each spreader — regardless of model — is perfect for lime, salt, sand, fertilizer, and more.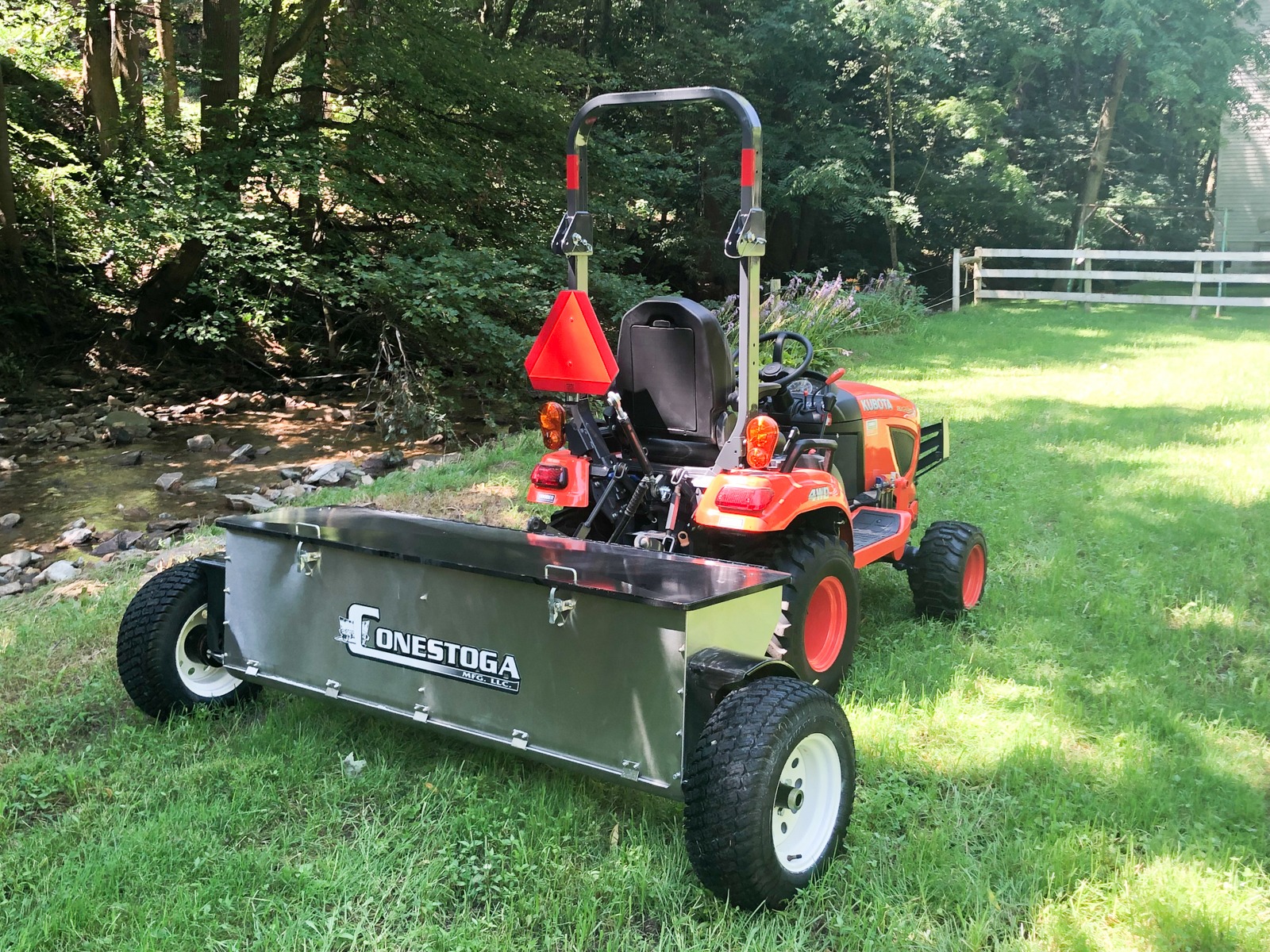 Features:
15 different settings for a wide range of precise spreading
Wide tires that reduce ruts and tracks
16-gauge Stainless-steel box construction
Fully closing lid with latches
Adjustable hitch for use with ATV, UTV, lawn mowers, and compact tractors
2-year warranty
Optional Secondary Agitator
Commercial Drop Spreader – DSC-7200
Hopper Cap — 800#
Hopper Cubic Feet – 11.2
Hopper Length – 72"
Hopper Width — 18 ½ "
Hopper Depth – 22"
Box Material – 16-gauge Stainless Steel
Opening Size Triangle – 1 ¾" wide x 1 ¼" long
Ground – 7 ½"
Tire Size 23 x 8.50 – 12
Spindle Size – 1 ¼"
Overall Width – 97"
Spreading Width – 72"
Number of Settings – 15
Secondary Agitator – Optional
Weight with Tires – 380 lbs.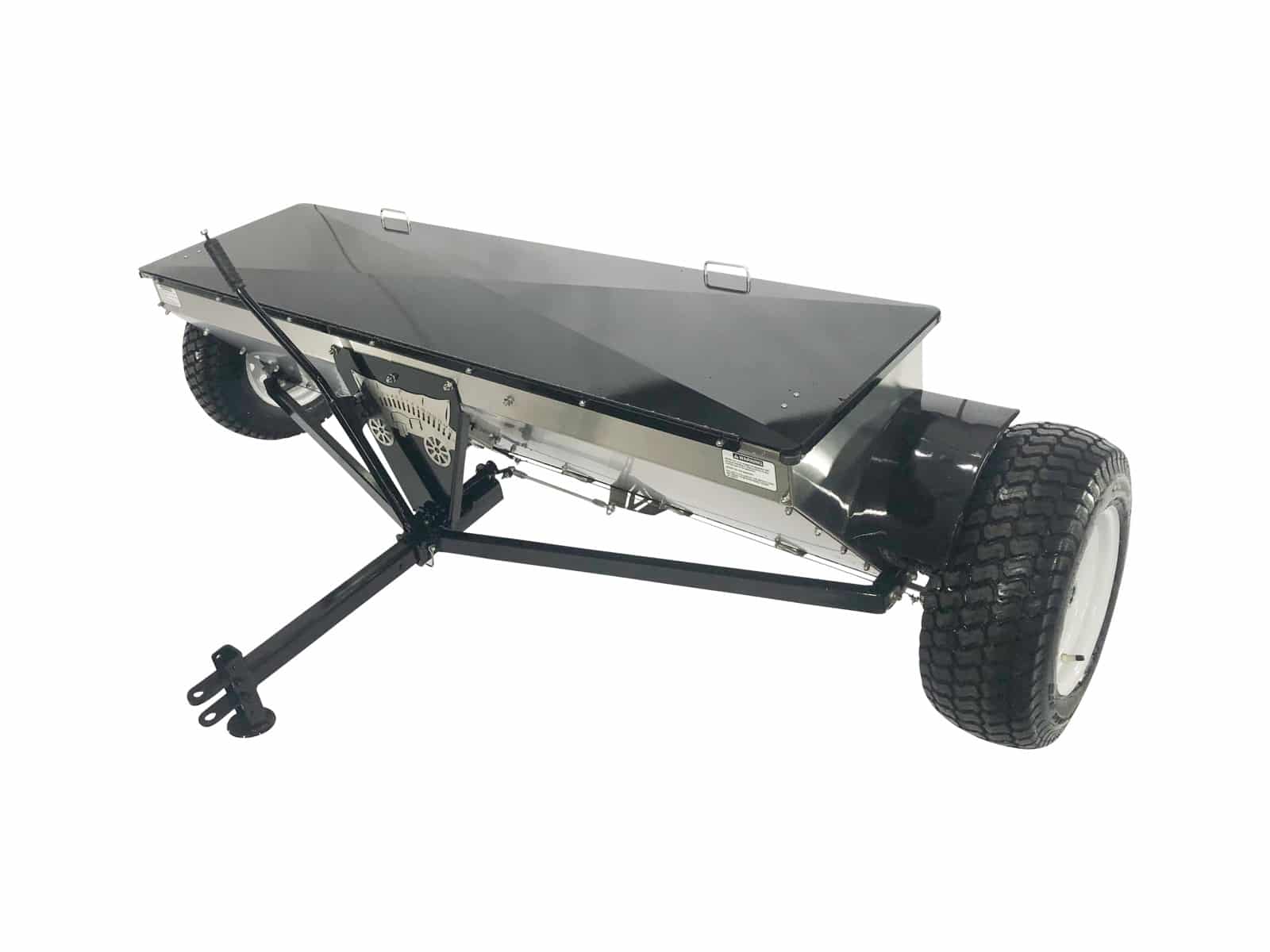 I've owned several of the "big name" manure spreaders, but the Conestoga spreader is by far the best. It has a much better design, more durable parts, and a very reasonable price. My other spreaders couldn't handle spreading manure mixed with hay, but the Conestoga spreads it quickly and easily.
I have been running my own business for 30 years, and I have been very pleased with both the manure spreader that I purchased, as well as the very professional and reasonable servicing Conestoga does for me once or twice a year. These are honest good people that do a great job with their business.
Conestoga is by far the best spreader out there. After 2 years of continuous use, it works perfectly. I would match the Conestoga against any out there.
Wendy C. , North Carolina