Tow Behind Drop Spreader 
The DSC-6000 Drop Spreader is built to last with quality stainless steel. This re-designed and updated unit is sure to be a long standing fixture on your farm.
Different Uses:
Fertilizer
Sand
Lime
Salt
Cover crops
Other materials
The DSC-6000 is the mid-sized drop spreader from Conestoga Manufacturers. This model is perfect for taking care of a medium sized yard, small farmette, snow removal treatment, or doing landscaping or lawn care on the side.
The 60" long hopper can hold up to 9 cubic feet of product. This drop spreader is sturdy enough to handle lime and precise enough to spread fertilizer. It is truly versatile in its applications and its year-round usage ability.
The DSC 6000's wide tires minimize tracks or ruts on turf or other specialized surfaces. Smaller than the DSC-7200, the 6000 is easy to pull with any ATV, UTV, lawn mower, or compact tractor. It operates off of a reliable ground drive system so all you have to do is hook it up and start driving. It comes equipped with a fully closing lid to keep moisture out and product in.
Conestoga's Model DSC-6000 Drop Spreader is our medium-sized tow-behind drop spreader. Each Conestoga Drop Spreader includes features that ensure ease of use and durability. And each spreader — regardless of model — is perfect for lime, salt, sand, fertilizer, and more.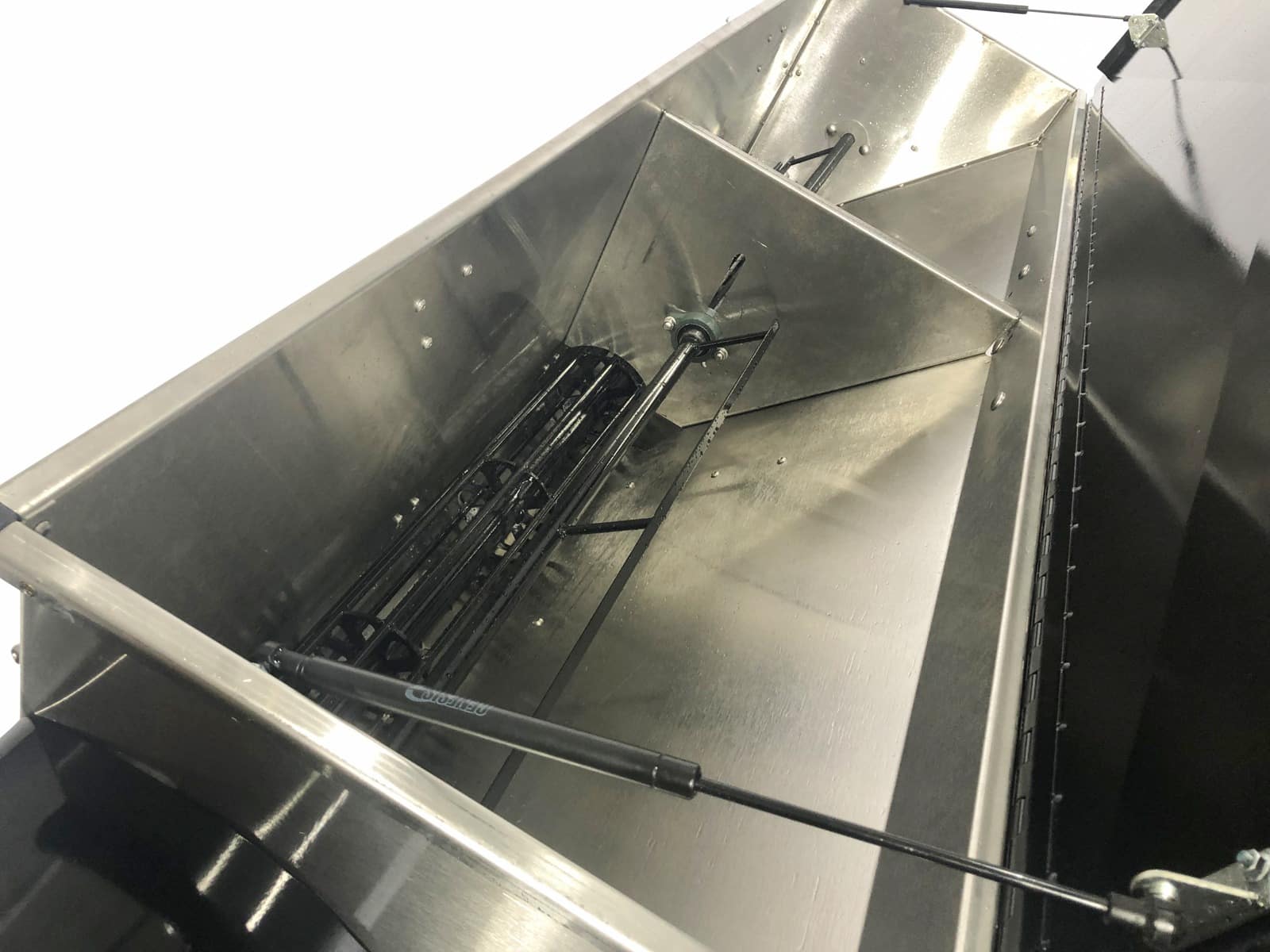 Features:
60" long product hopper
15 different settings for a wide range of precise spreading
Wide tires that reduce ruts and tracks
16-gauge Stainless-steel box construction
Fully closing lid with latches
Adjustable hitch for use with ATV, UTV, lawn mowers, and compact tractors
2-year warranty
Optional Secondary Agitator
Tow-Behind Drop Spreader – DSC-6000
Hopper Cap – 666#
Hopper Cubic Feet – 9.3
Hopper Length – 60"
Hopper Width – 18 ½"
Hopper Depth – 22"
Box Material – 16-gauge Stainless Steel
Opening Size Triangle – 1 ¾" wide x 1 ¼" long
Ground – 7 ½"
Tire Size 23 x 8.50 – 12
Spindle Size – 1 ¼"
Overall Width – 85"
Spreading Width – 60"
Number of Settings – 15
Secondary Agitator – Optional
Weight with Tires – 353 lbs.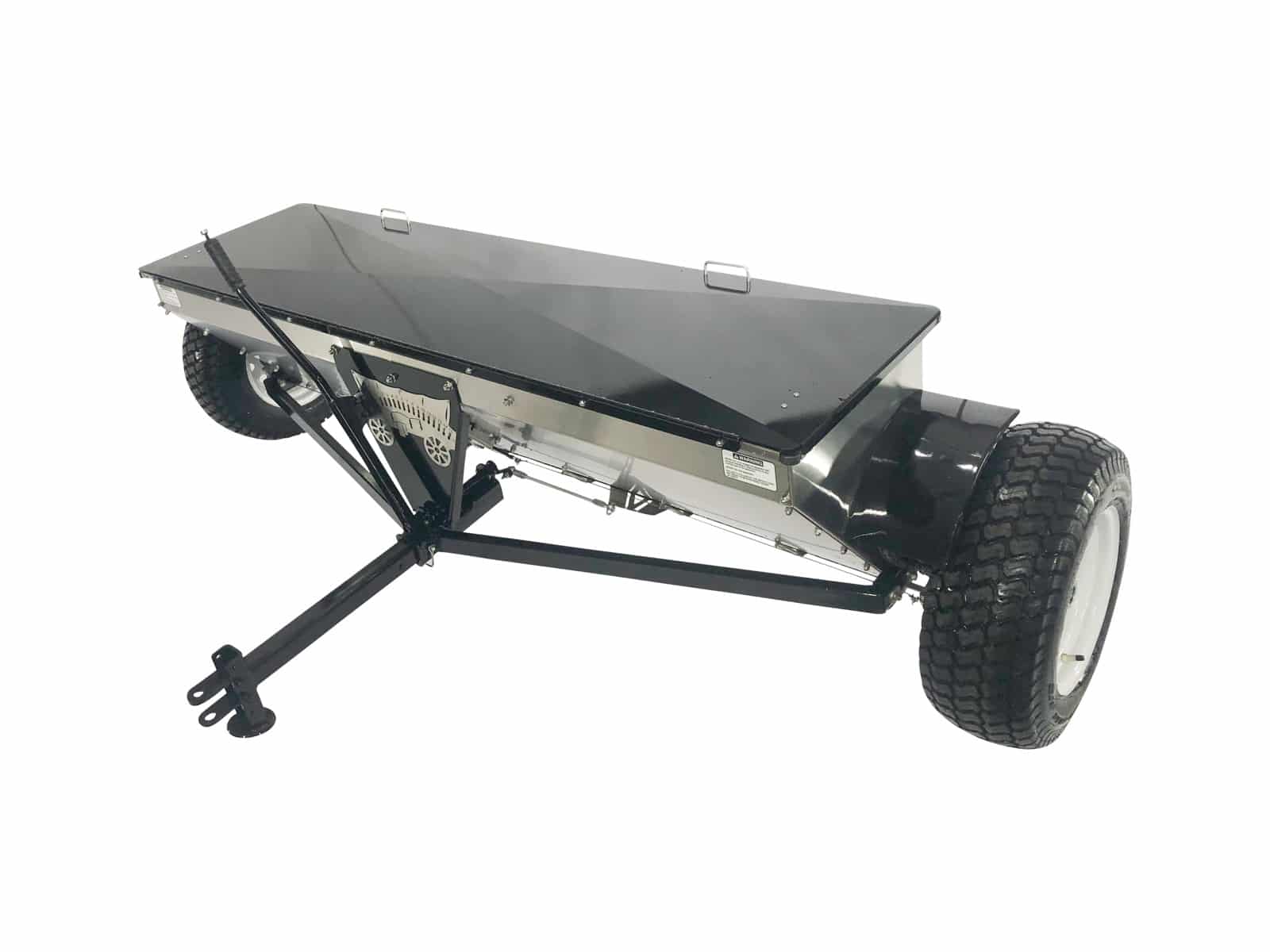 I've owned several of the "big name" manure spreaders, but the Conestoga spreader is by far the best. It has a much better design, more durable parts, and a very reasonable price. My other spreaders couldn't handle spreading manure mixed with hay, but the Conestoga spreads it quickly and easily.
I have been running my own business for 30 years, and I have been very pleased with both the manure spreader that I purchased, as well as the very professional and reasonable servicing Conestoga does for me once or twice a year. These are honest good people that do a great job with their business.
Conestoga is by far the best spreader out there. After 2 years of continuous use, it works perfectly. I would match the Conestoga against any out there.
Wendy C. , North Carolina