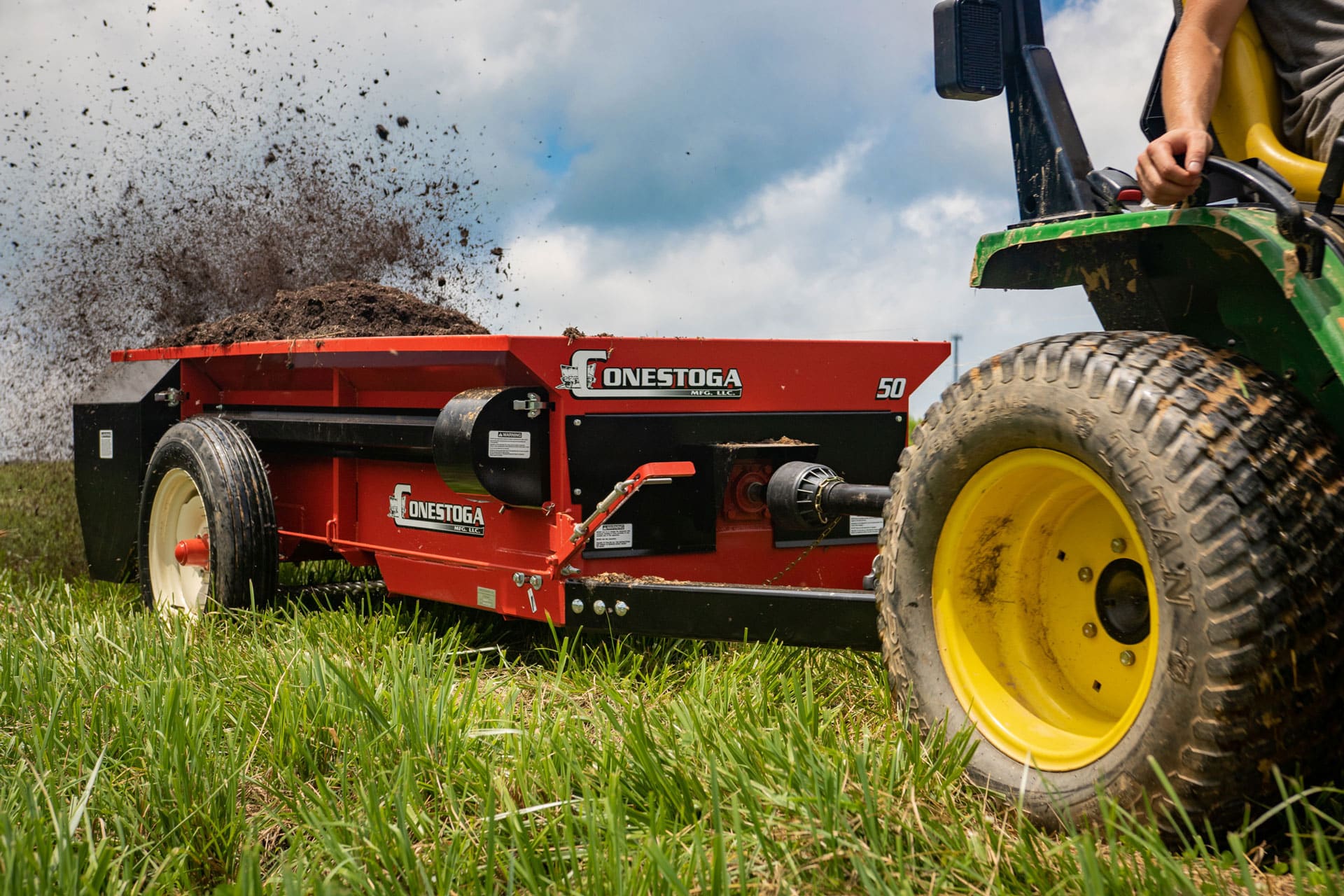 7 questions before you buy a manure spreader: When you are getting ready to purchase a manure spreader, there are 7 important things you will want to consider before making your purchase. We'll help you think through the practical things you need to know before you make a final decision on what manure spreader to buy.
Conestoga Manure Spreaders has created this guide to help you plan and pick the right manure spreader for your needs. These are not commercial-sized manure spreaders though, be aware of that. Our largest manure spreader has 175 cubic feet of capacity but is not large enough for commercial liquid manure spreading. The manure spreaders talked about here and the conditions talked about here are really for small farms, horse farms and horse boarding, and hobby farmers.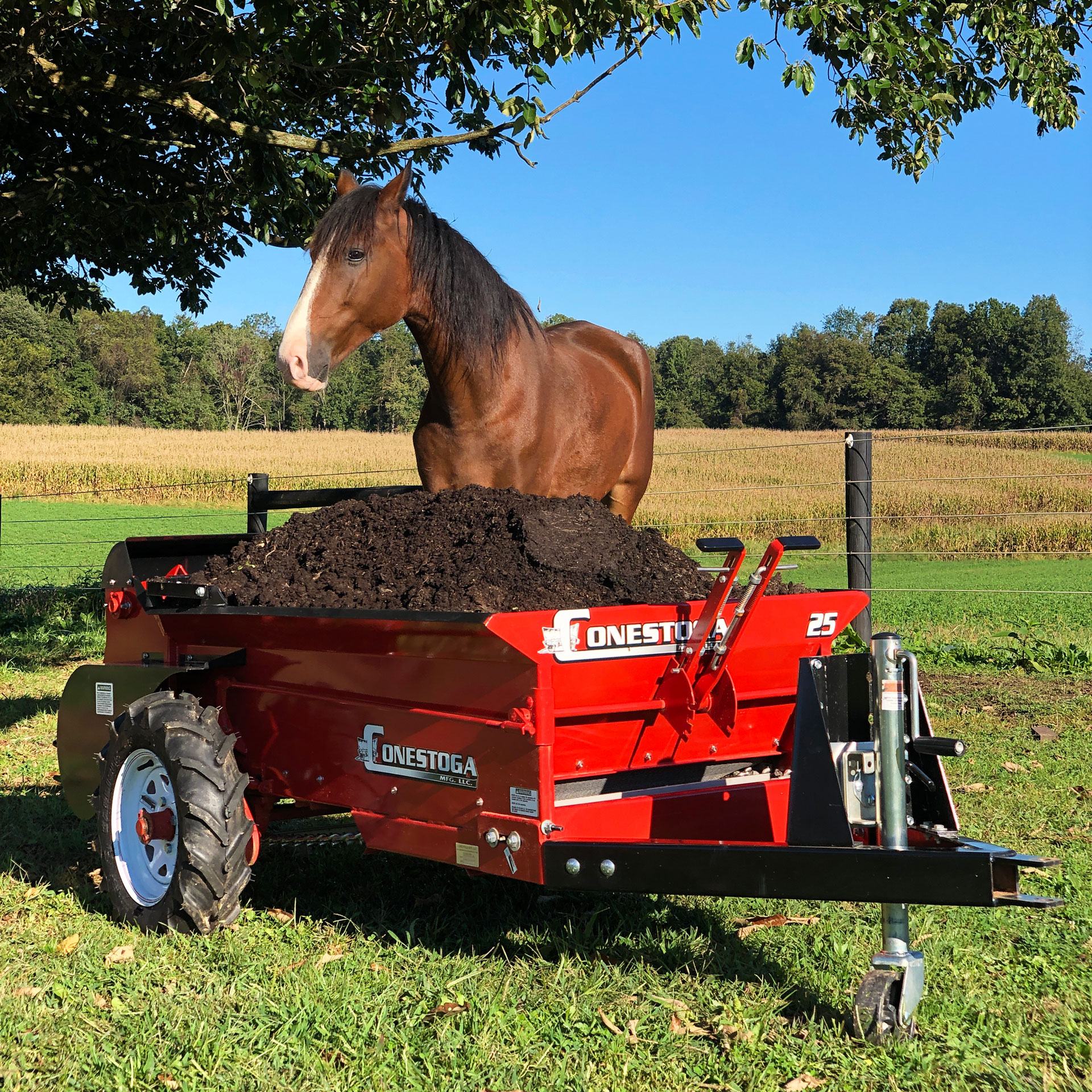 How Much Manure

Do You Need to Spread?
In order to pick the best manure spreader for you and your operation, you need to determine how much manure you need to spread. If you already have a good idea of how much manure you need to spread on a daily, weekly, or bi-weekly basis then good for you! 
If you're wondering how much manure you need to spread here is a figure that might help you out. The average horse that weighs about 1,000 lbs produces approximately 2 cubic feet of manure per day. So if you have 5 horses then per day, the approximate amount of manure would be 10 cubic feet. Over the course of the week that would be roughly 500 cubic feet of manure to take care of if they are all stall-kept.
These are rough estimates but you get the idea of where to start figuring things out as far as how much manure per day or per week you will need to spread. Click here for more on this topic.
How Often

Do You Want to Spread Manure?
Now the answer to the question of how often do you want to spread manure will be different for everyone. Once you know how much manure your farm is producing then you need to decide how often you can spread. Out of convenience, you may not want to spread more than once a week. You will need to get a manure spreader with a large enough capacity to hold all the manure your farm produces if your goal is to spread manure once a week. If you can easily spread twice a week then you can get a spreader that will hold roughly half. If you need more specific guidance check out our blog about what manure spreader size is best.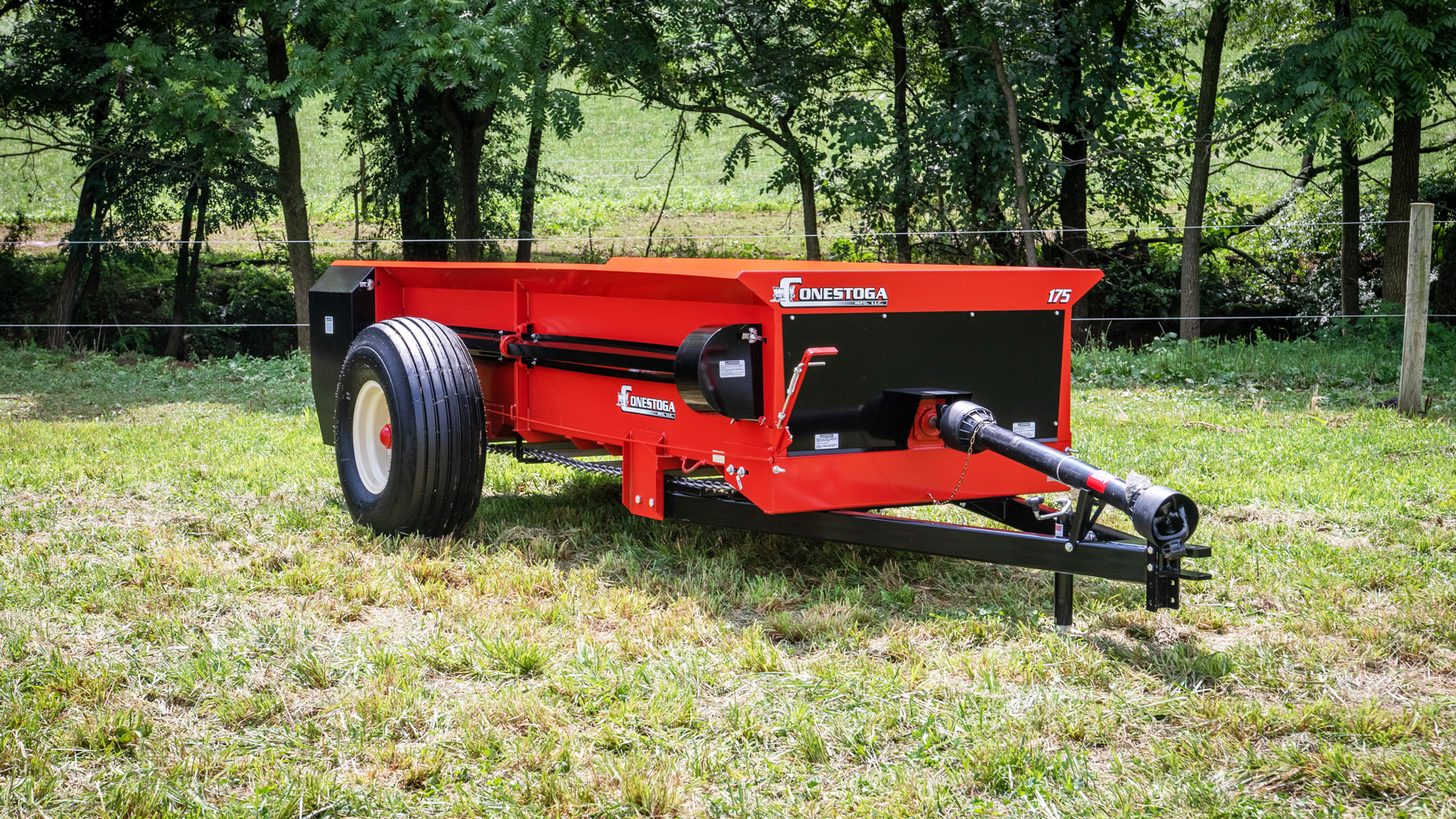 How Will You Pull

Your Manure Spreader?
If you have a vehicle or tractor without PTO drive capabilities like an ATV, UTV, garden tractor, or small pickup truck then you will want to get a small ground driven manure spreader or a medium-sized ground driven manure spreader. 
If you will be using a tractor or other vehicle with PTO capabilities then you will probably want to choose a PTO manure spreader. The next decision to make once you've decided on a ground-driven spreader or a PTO manure spreader will be what size manure spreader is best.
The two major factors to consider when deciding what manure spreader size will work best for you are how much manure you have to spread on a daily or weekly basis (depending on how often you want to spread manure), and the amount of storage space that you have in your barn or on your property.
How Reliable

Is The

Manure Spreader?
How reliable is the manure spreader you're thinking about purchasing? Does the manufacturing company have google reviews? Is their customer service strong? Is the spreader well-built? Is its spreading action impressive? What kind of spreader beaters does it have? These are all important questions to process as you decide what kind of manure spreader you want to invest in.
How Durable

Is The Manure Spreader You're Considering?
The materials your manure spreader is built out of matter, a lot. At Conestoga Manure Spreaders we go the extra mile to enure that any spreader you buy from us will work as hard as you do. We have intentionally chosen certain materials to use on parts of our spreaders that are classic weak points of a lot of small manure spreaders. 
Stainless Steel

Apron Chains
We use stainless steel apron chains for all of our manure spreaders. Stainless steel apron chains last so much longer than traditional apron chains and t-bars that rust and break. Replacing your t-bars and apron chain will cost you hundreds of dollars, you avoid that cost altogether with better quality parts on your spreader.
Poly-Vinyl

Floor Boards
The floorboards of any manure spreader are another classic weak point! If you are loading your spreader throughout the week and letting manure sit in the spreader that will destroy your spreader's floorboards over time. The way around this common problem for any manure spreader is poly-vinyl floorboards. Imagine poly-vinyl deck material, that is very comparable to what a Conestoga Manure Spreader floor is like. Impervious to rot and moisture damage of any kind. You want a manure spreader built to last through years of regular use.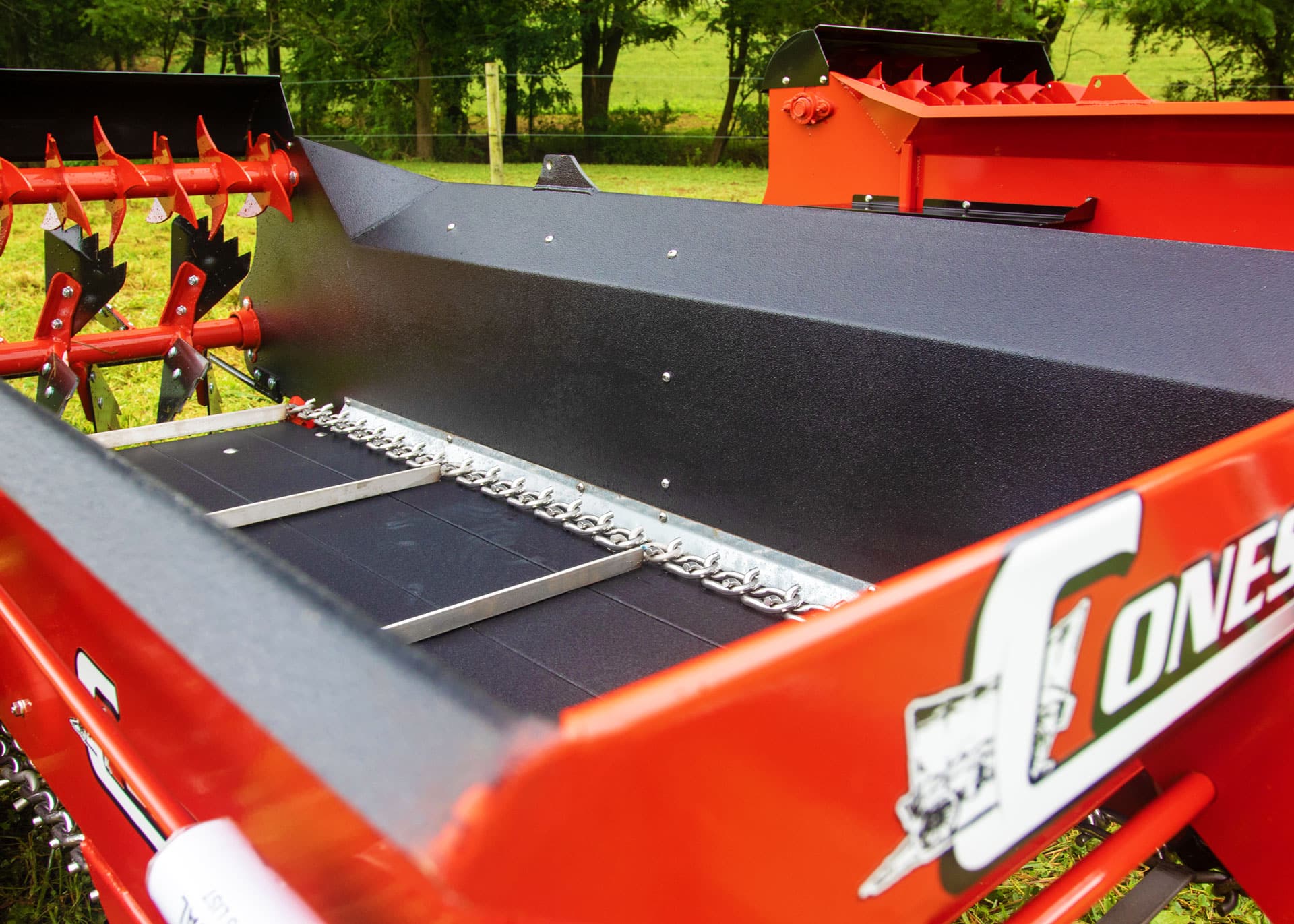 Are There Good Optional Features Available

For The Manure Spreader

?
The availability of good optional features is something people often forget to consider when purchasing a new manure spreader. Maybe there are parts upgrades available? Some good optional features to ask about would be top beater bars (some of our small mature spreaders come standard with these, others you have to choose top beater bars as an optional feature), spreader box coating to further protect the steel and paint, and mechanical or electronic end gates. These are all potential optional features that could improve your user experience and the life of your spreader. Don't overlook what optional features are or are not available as you check out different manure spreader manufacturers.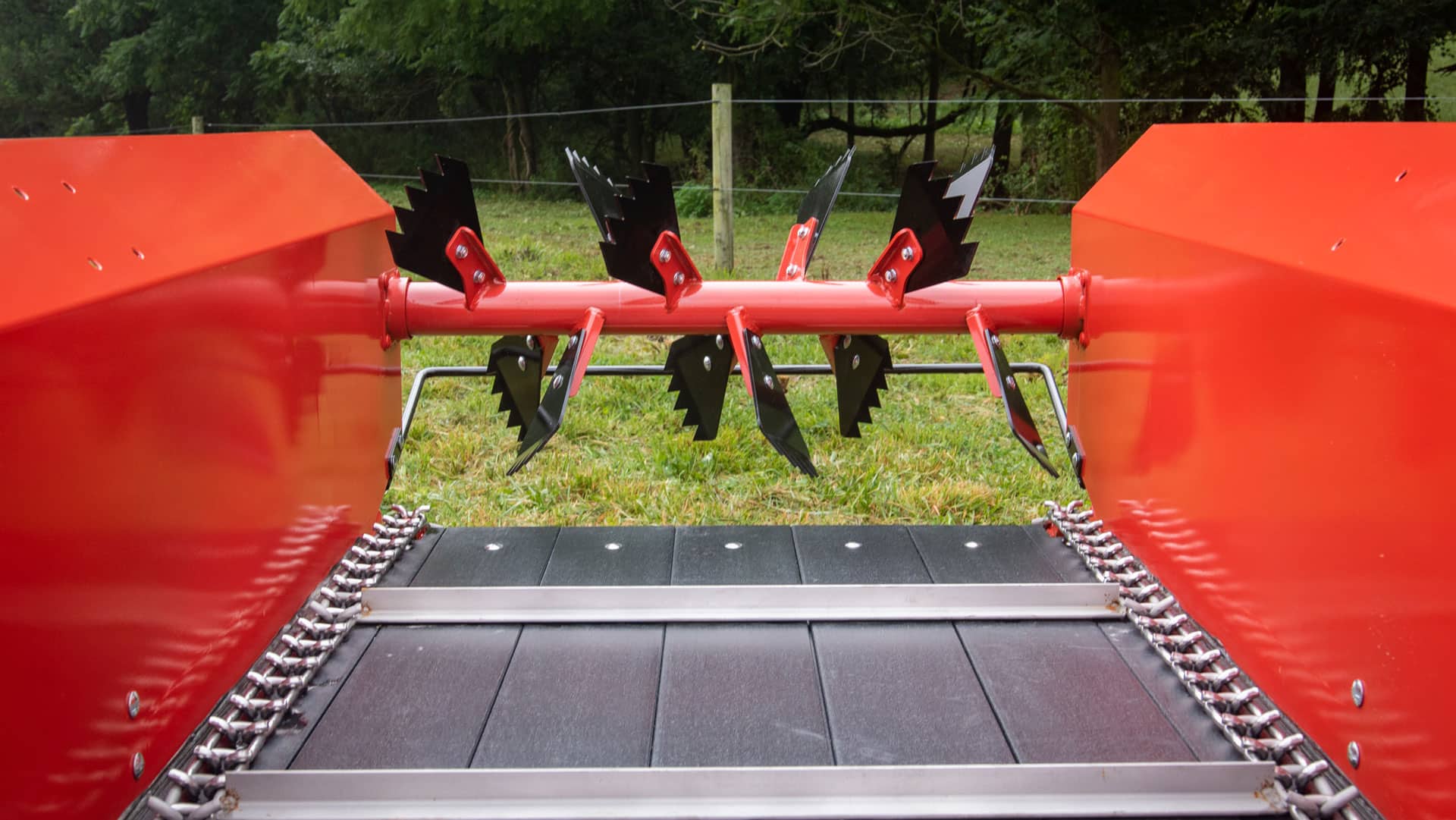 What Warranties

Come With The Manure Spreader?
You will want to make sure that your new manure spreader comes along with some decent warranties. We all know that it is a natural part of the world for things to break down over time, especially tools and equipment that we use on a regular or daily basis. So, warranties are essential! Conestoga Manure Spreaders come with 3 different warranties pertaining to different parts of the machine.
10-Year Spreader Box and Frame rust-through warranty. All of our manure spreaders come with a warranty against rusting through the spreader box and spreader frame for 10 years. 
Lifelong Poly-Vinyl Spreader Box Floor Warranty. The poly-vinyl floorboards we use for all of our manure spreaders are guaranteed for the life of your manure spreader.
3-Year Mechanical Warranty. Conestoga's 3-Year Mechanical warranty covers any mechanical issues during the first 3 years of ownership after purchasing that are unrelated to abuse of the machine or commercial farming.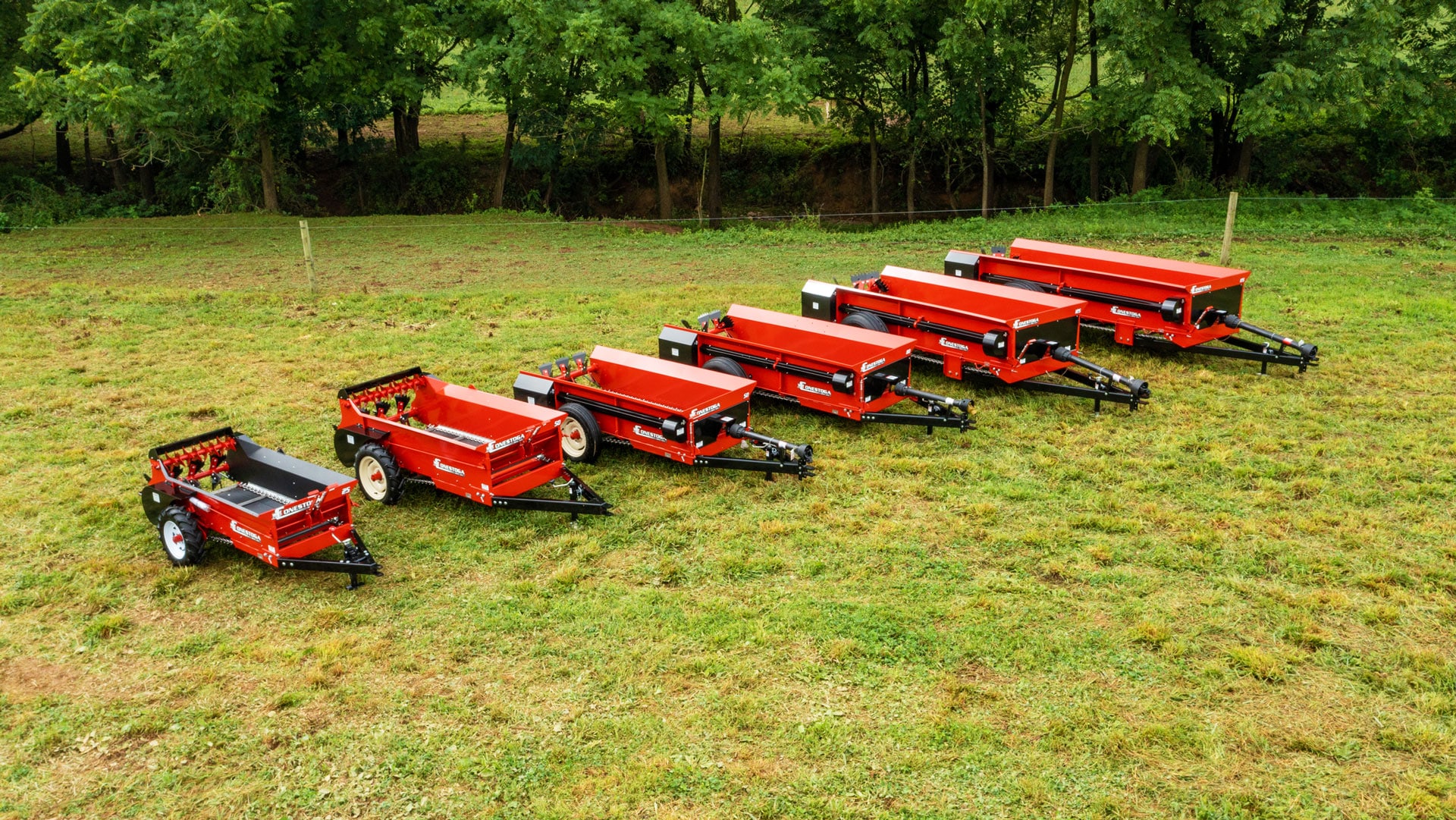 Choosing The Manure Spreader
Best For You
Hopefully, you feel equipped to think about the most important factors to consider when investing in a new manure spreader! There are multiple manure spreader brands out there that you may want to research before buying. Take these 7 key questions to ask before you buy a manure spreader and do some good homework! Here they are again as a reminder:
How Much Manure Do You Need To Spread?
How Often Do You Want To Spread Manure?
How Will You Pull Your Spreader?
How Reliable Is The Manure Spreader?
How Durable Is The Manure Spreader?
What Warranties Come With The Manure Spreader?
If you want to learn more about Conestoga's manure spreaders an excellent place to start is our buyer's guide. You can also send us a message through a contact form. We would be more than happy to answer any questions you may have.