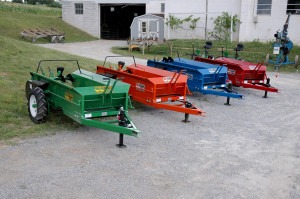 At Conestoga Manufacturing we understand what it takes to make the best quality Manure Spreaders on the market, as we have been doing it for years. Our manure spreaders are ideal for small farms, horse enthusiasts, organic farms, or any application in which you want to spread manure. Our manure spreaders are durable and rugged and stand up to harsh daily use.
Whether you need a manure spreader to attach to your garden tractor, ATV, or compact tractor we have a model to fit your needs. Our spreaders come in both ground drive models and PTO drive models. We know you have many options when it comes to choosing and purchasing a manure spreader but here is what sets us apart:
Stainless Steel Bars
Stainless Steel T-Rod Chain (which is standard on most models)
COR-TEN steel that offers the BEST in corrosion resistance
Highest Quality materials including bolts, bearings, chains, and sprockets
Click here to view our selection of Manure Spreaders or view the comparison table below. We can provide fast and easy pricing by filling out the form at the bottom of this page and any individual product page.
Manure Spreaders we offer:
Get a price or ask for additional information