CM-25
ATV Manure Spreader
CM-25

ATV Manure Spreader
The CM-25 is a small ATV manure spreader from Conestoga Manufacturing. This is our smallest manure spreader and it is powered by a ground drive, no PTO is required. You can haul this spreader with an ATV, UTV, lawn & garden tractor, or compact tractor. We design and build every manure spreader to meet the needs of our customers. Made in America, these spreaders are tough and durable and will last you through the years of regular use.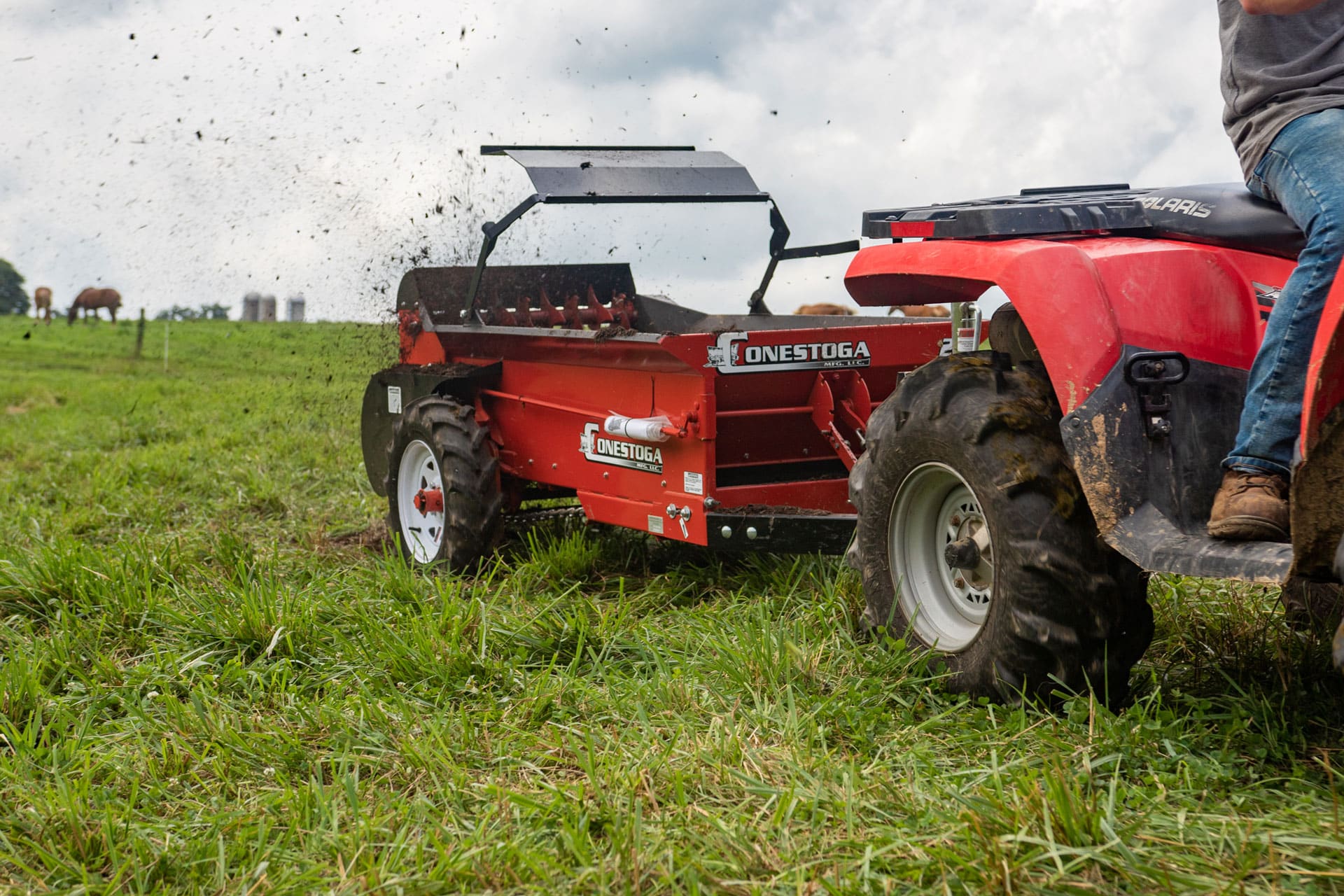 All of our manure spreaders feature stainless steel apron chains ensuring that they will not rust through. Our spreaders also feature poly-vinyl floorboards that come with a lifetime guarantee against rot. We know that you need the best machines to get your work done and our spreaders are here to help you do just that.
Contact us today to get a free quote on a CM-25 ATV manure spreader or with any questions you may have. We would love to help you out.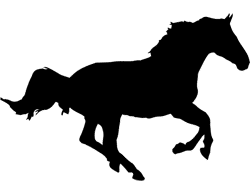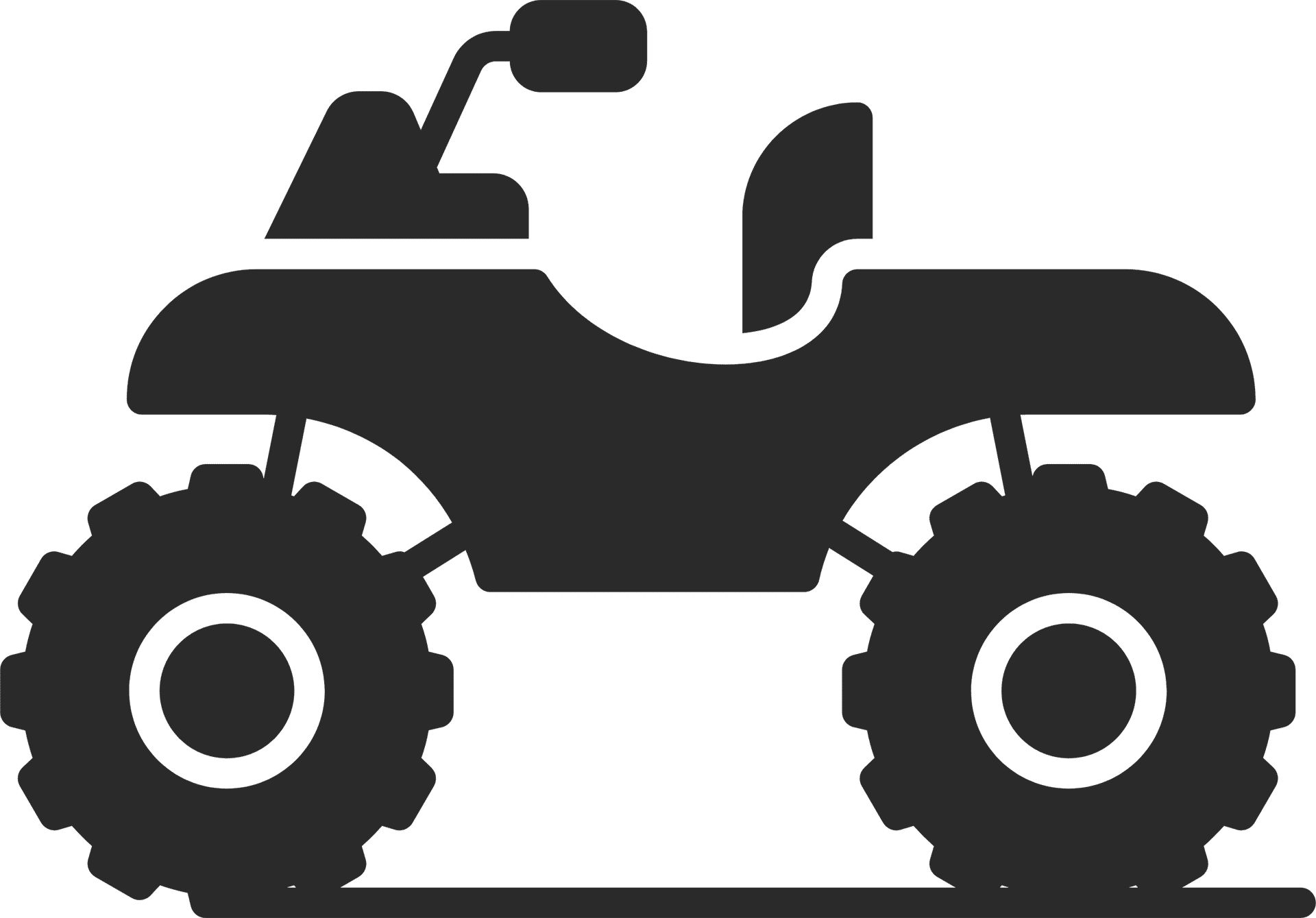 Tow with ATV, UTV, or Lawn Tractor

CM-25 ATV
Manure Spreader
OVERVIEW
The smaller, CM-25 ATV manure spreader from Conestoga is designed for daily use and smaller loads. We designed this manure spreader to be strong and durable. We used stainless steel to construct the T-rod apron chain and cross slats and we used welded Cor-ten copper bearing steel for the box construction making it 4x stronger than carbon steel and more resistant to atmosphere corrosion.
The beater features a 12 rooster comb paddles that are bolted on for easy replacement when natural wear does occur. It is all-wheel drive to ensure that you continue spreading even when turning. This ATV manure spreader was built with you in mind.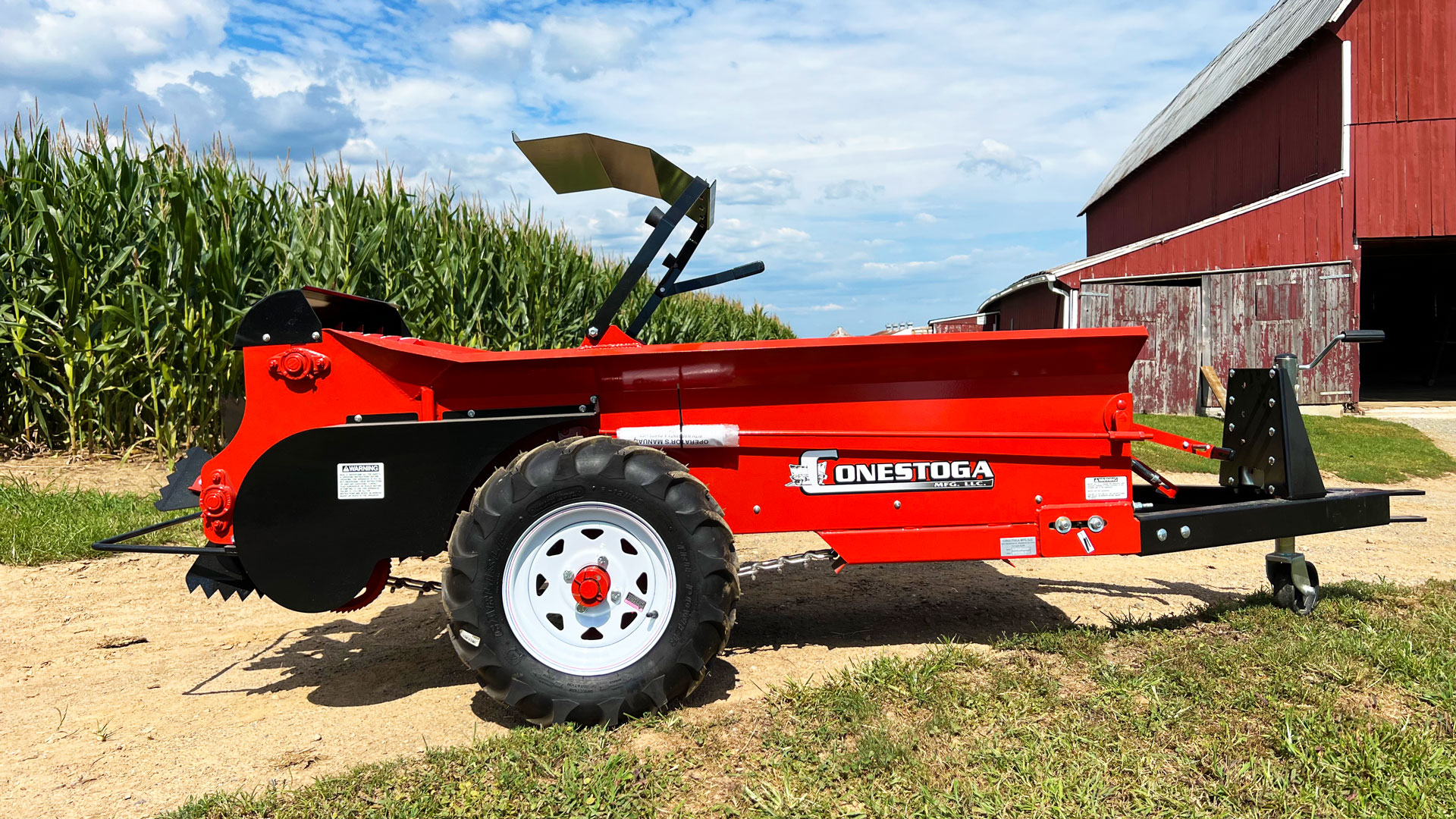 I've owned several of the "big name" manure spreaders, but the Conestoga spreader is by far the best. It has a much better design, more durable parts, and a very reasonable price. My other spreaders couldn't handle spreading manure mixed with hay, but the Conestoga spreads it quickly and easily.
I have been running my own business for 30 years, and I have been very pleased with both the manure spreader that I purchased, as well as the very professional and reasonable servicing Conestoga does for me once or twice a year. These are honest good people that do a great job with their business.
Conestoga is by far the best spreader out there. After 2 years of continuous use, it works perfectly. I would match the Conestoga against any out there.
Wendy C. , North Carolina
CM-25 ATV
Manure Spreader
SPECIFICATIONS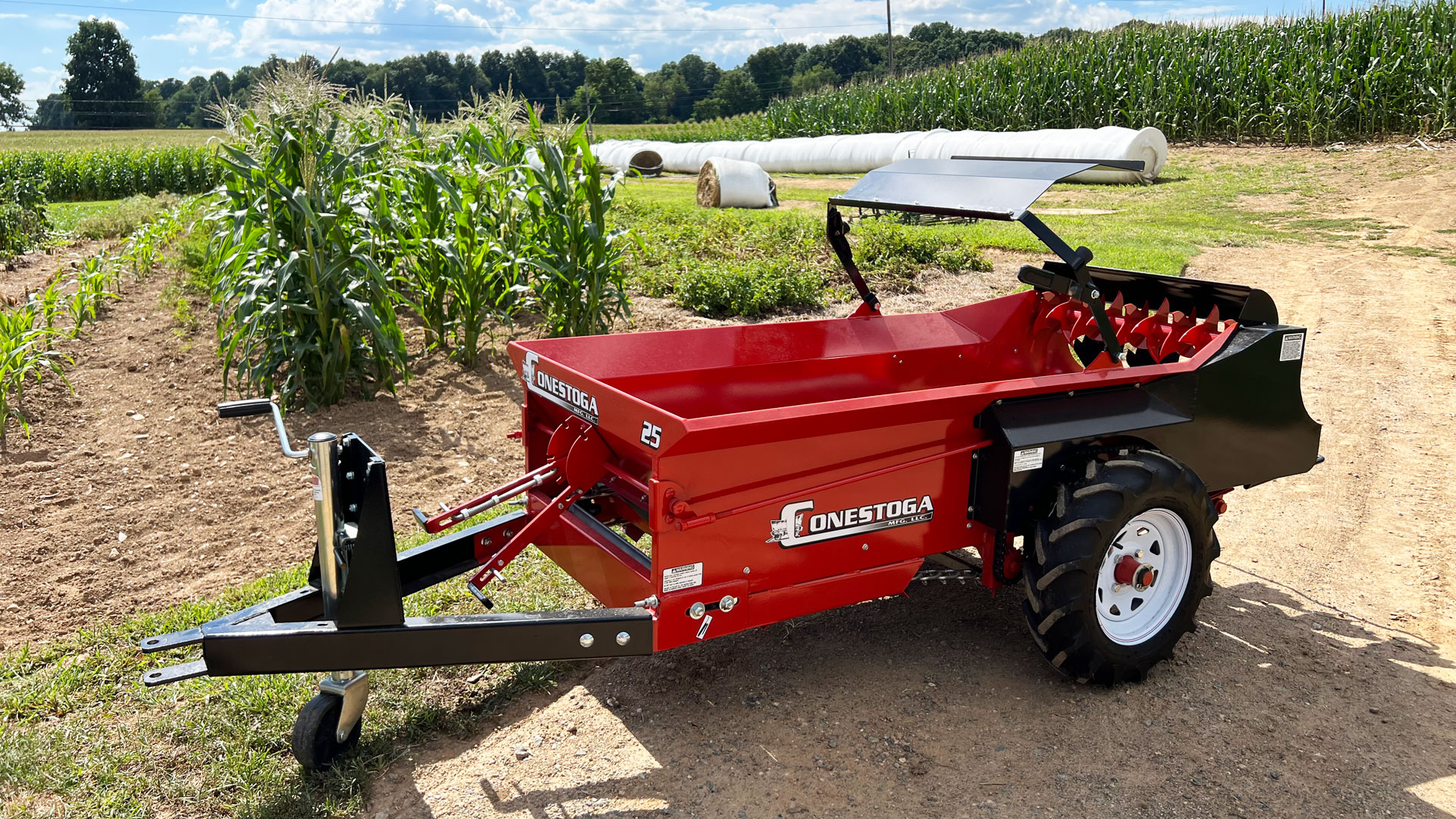 Heaped Capacity: 26 cubic feet
Overall Length: 120 inches
Overall Width: 47 inches
Loading Height: 30 inches
Flared Width: 35 inches
Box Width: 28 inches
Box Length: 78 inches
Box Construction: Fully Welded, 12 Gauge COR-TEN Steel
Floor Construction: High Density Poly-Vinyl (Tongue & Groove)
Beater Paddles: 12 Rooster Comb (Replaceable with 60 cutting teeth)
Beater Diameter: 18 inches
Drive: 2 Wheel Drive
Apron Chain: 3/8″ Stainless Steel T-Rod
Apron Drive: 4-Speed Ratchet Drive
Spindle: 1 3/8″
Tires: 6-12 Traction
Shipping Weight: 565 pounds
Wheels: 12×6-4 Bolt
CM-25 ATV
Manure Spreader
STANDARD

FEATURES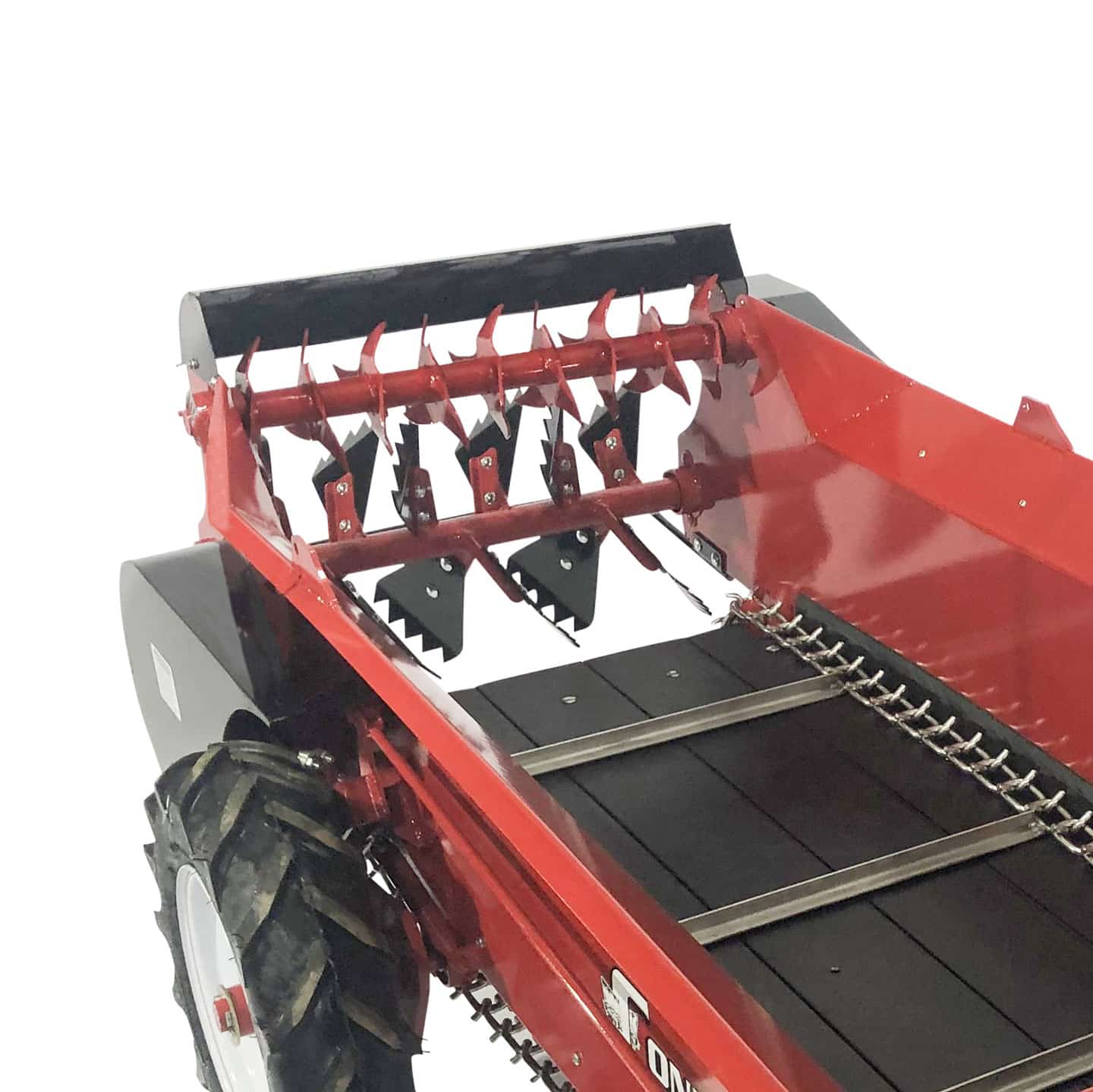 12 Replaceable Rooster Comb Paddles
12 Bolted Paddles with a large diameter are made of 3/16″ quality steel for an excellent spreading pattern. The bolt-on style allows for easy replacement and is a feature not offered by many other spreader manufacturers. 
The top beater bar comes standard on the CM-25 ATV manure spreader and ensures maximum shredding of your manure.
Polyvinyl Flooring
The floor of the ground drive manure spreader is built with Polyvinyl flooring with a lifetime guarantee. This flooring allows for better flow and an easy cleanup. They will not rust or rot.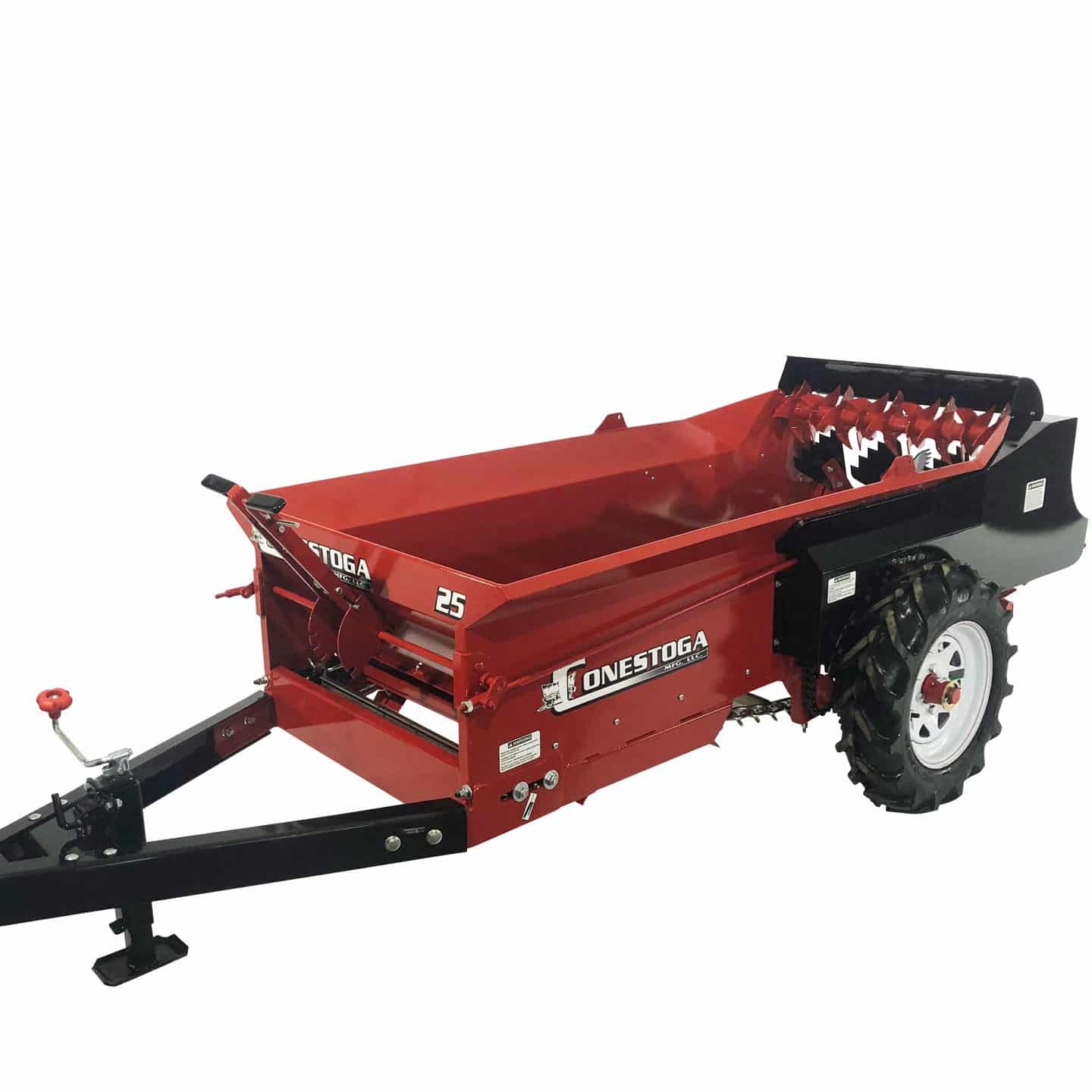 All Wheel Drive
Our uniquely designed ratchet clutch drive system makes spreading easy. Whether you are spreading straw bedding, shavings, or even a load mixed with hay- the CM-25 ground driven manure spreader will unload smoothly with NO WHEEL DRAG OR SLIPPING.
Adjustable Web-Speed
Choose from four spreading speeds with an adjustable web speed lever. The easy-to-use lever allows you to adjust spreading thickness from a light dusting to a heavy coating.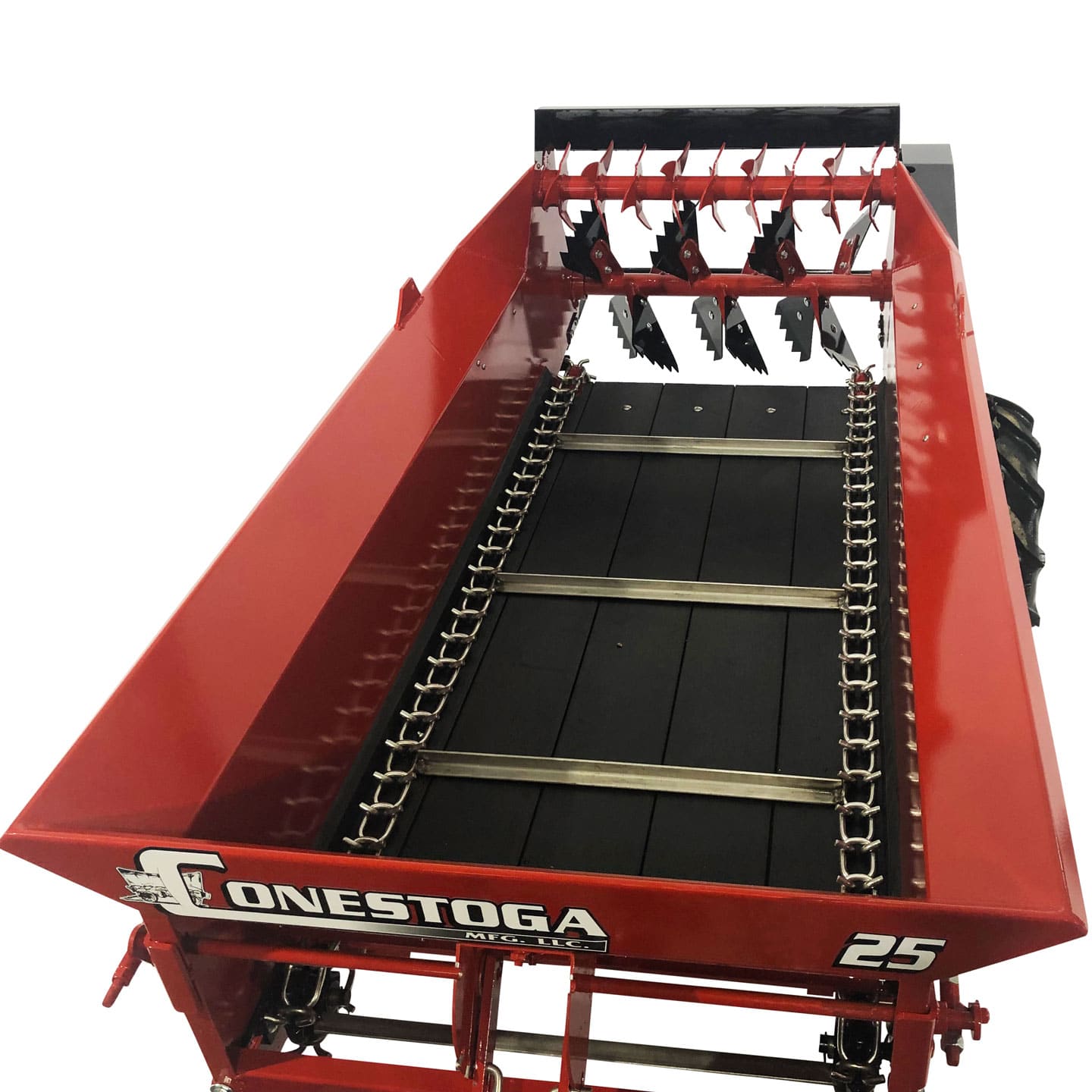 Stainless Steel Apron Chain
The main apron chain is a common area for some ground driven manure spreaders to have problems. If an apron chain isn't stainless steel you can count on them failing within 7-10 years of purchase. Conestoga's Stainless Steel Apron Chains will literally never rust through. Our apron chains will keep your spreader running well and out of the repair shop.
Box Construction
The box of our ground driven manure spreader is built from long-lasting 12-gauge COR-TEN steel for extra corrosion resistance.