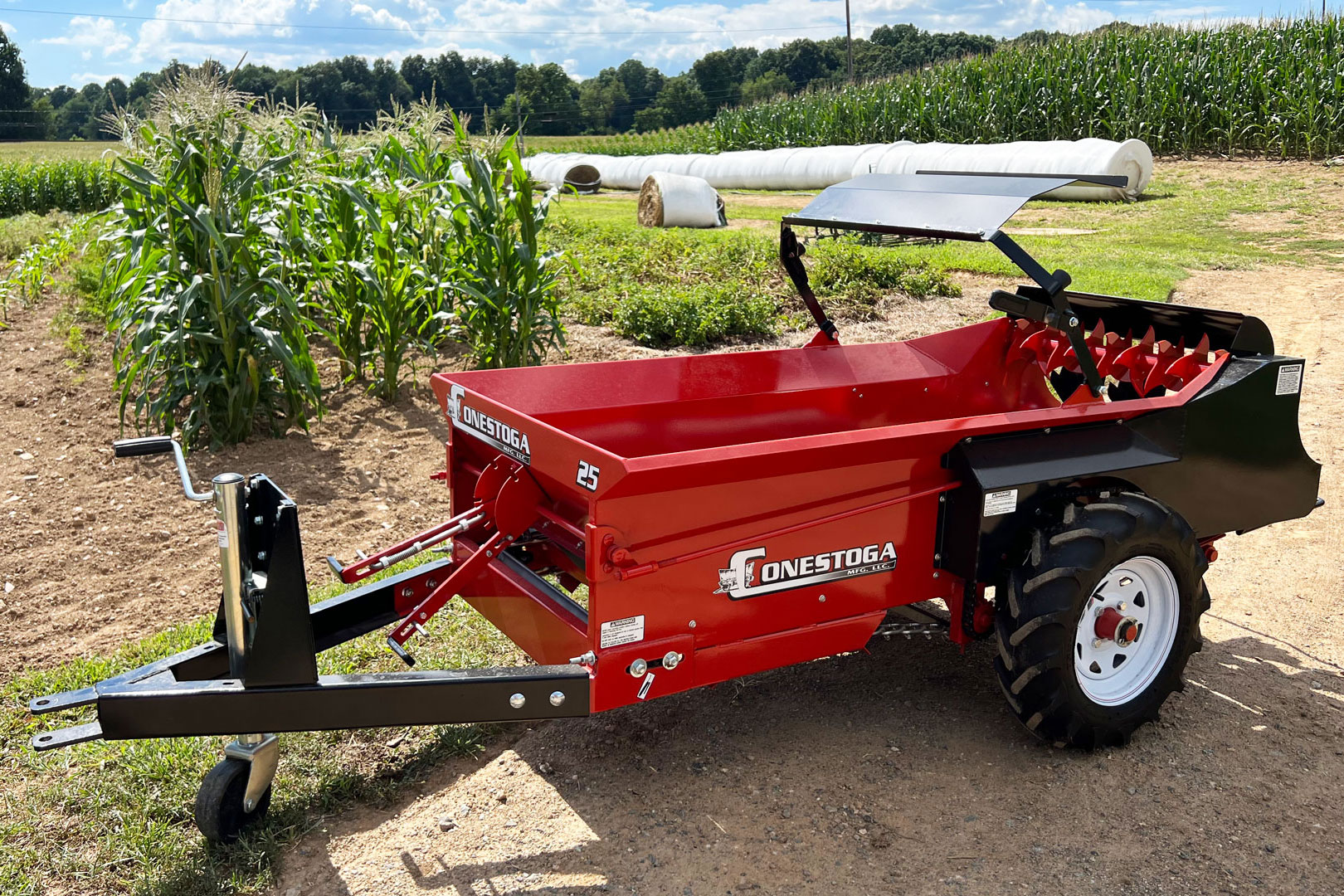 Conestoga Manure Spreader's model CM-25 is a ground-drive spreader designed for daily use on a smaller farm or ranch. The CM-25 manure spreader features a heaped capacity of 25 cubic feet and offers a smaller footprint of 49-3/4″ in width x 9′-10″ in length to make indoor storage of the spreader a breeze. This small manure spreader also includes a box height of 28″ which makes loading and unloading material an easy task for anyone.
Like all of our spreaders – the CM-25 is built to work as hard as you do with our 12 gauge COR-TEN steel construction and the use of a High-Density Polyvinyl 3/4″ tongue and groove floor. Combine those features with our 3/8″ Stainless steel T-Rod and 12 replaceable rooster comb beater paddles and you have a machine that will last for years.
Additional Options for the CM-25 include:
Fine Spread Pan

End Gate

Dolly Wheel Jack

Adjustable Hitch

Spreader Box Raptor Liner
Standard Features for the CM-25 include:
Top Beater Bar 

Stainless Steel Apron Chains 

Cor-Ten Steel Welded Box 
You can pull the CM-25 with ATVs, UTVs, Side by sides, garden tractors, small farm tractors, and even small trucks if needed. 
Remember that the CM-25 spreads off of a ground drive wheel system meaning that you do not need any PTO power to operate this small pull-behind manure spreader. It is a great machine for people with 1-5 horses. 
As the tiniest manure spreader from Conestoga, this spreader can be stored fairly easily in a barn or garage, or other outbuildings.
Enjoy this vintage picture of one of our earlier small manure spreader models, you can see how many improvements we have made over the years on our CM-25 spreader!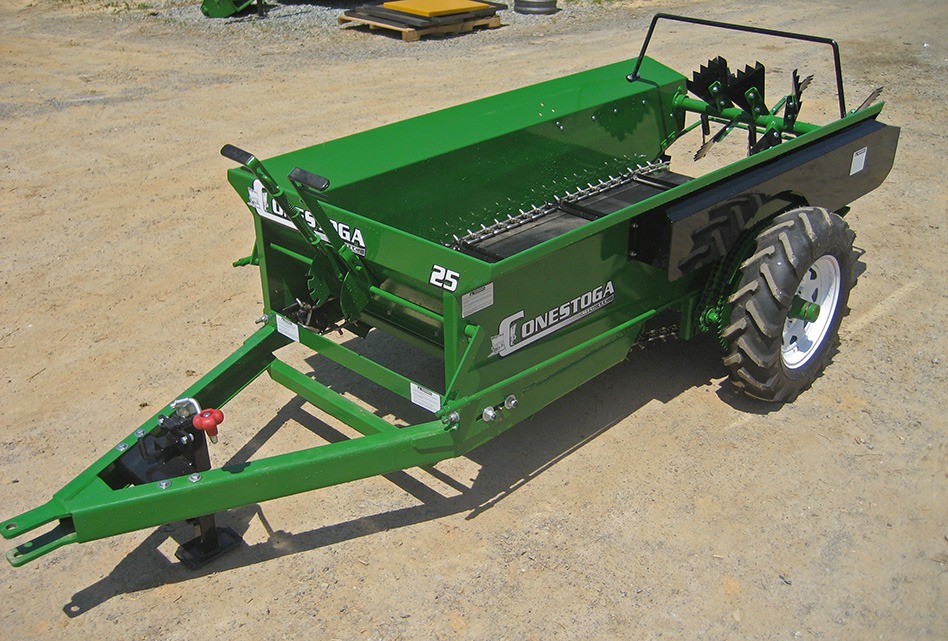 CM-25 Small Manure Spreader

Overview 
The CM-25 ground-driven manure spreader from Conestoga Manufacturing has undergone a number of design improvements over the years. It has always been a 25 cubic foot at heaped capacity manure spreader with no PTO drive capabilities. It has always been the smallest manure spreader offered by Conestoga. It has always been for 1-5 horses or people with around that number of animals that they need to spread manure for. 
CM-25 Small Spreader

Standard Features 
All of Conestoga's manure spreaders whether ground driven or PTO driven come with lots of great standard features. Some of these standard features have been around for a long time and some have been added to the spreader as part of the base offering.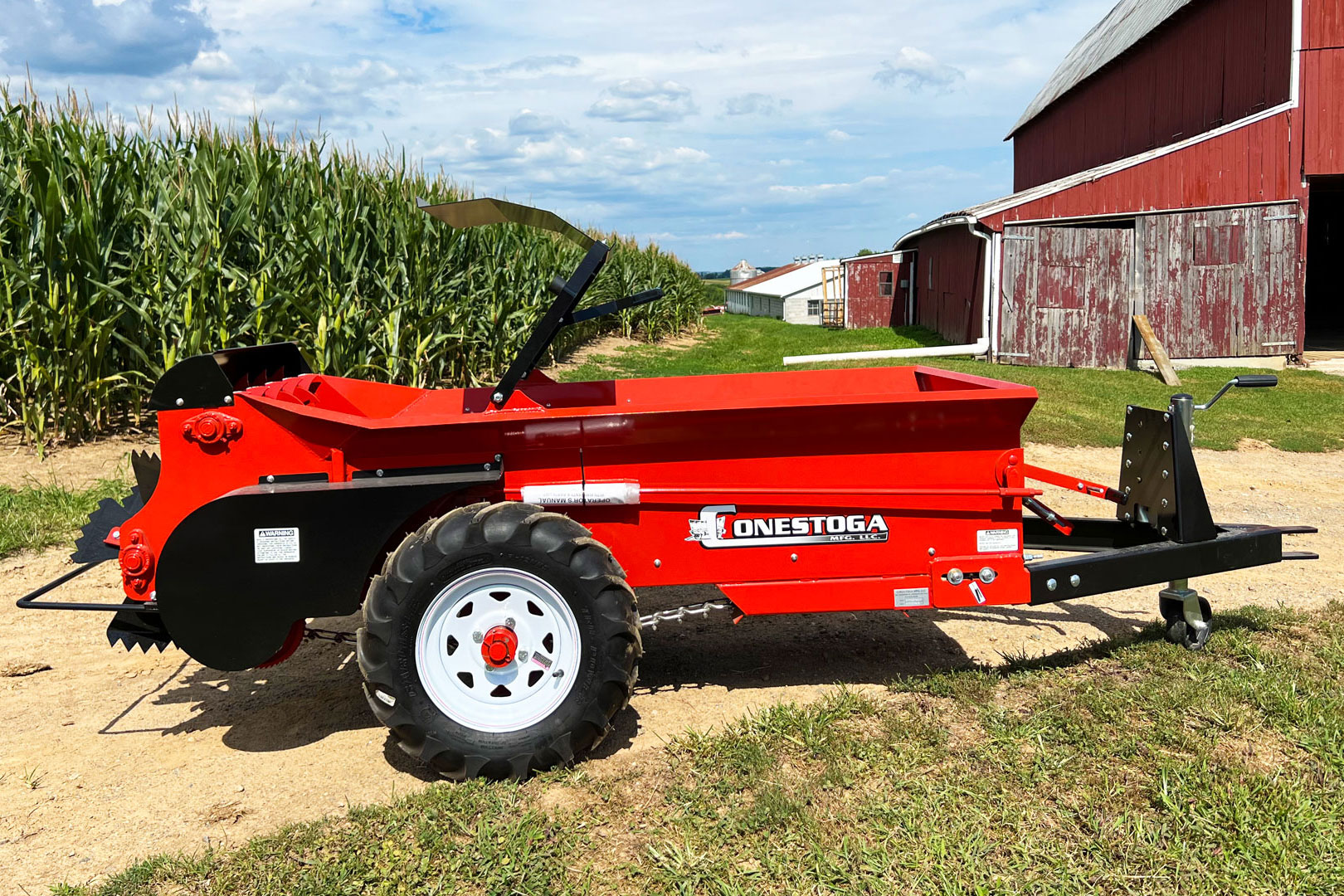 Stainless Steel

Apron Chain
The CM-25, along with every other spreader from Conestoga, comes standard with a stainless steel apron chain. You don't have to worry about rusting and failure when you get stainless steel.
Poly-Vinyl

Floor Boards
Another feature of the CM-25 is the polyvinyl floorboards. We use this material in all our spreader beds to ensure that you never have to deal with rot. The polyvinyl material is impervious to manure and manure mixtures that you will spread.
Bolt-On Rooster Comb

Beater Paddles
In the place of welded-on beater paddles, Conestoga installs bolt-on, rooster comb beater paddles. Our rooster comb paddles are aggressive for superior manure shredding and bolt-on for easy, do-it-yourself replacement should they go dull or break. 
Top Beater

Shredder Bar

 
The top beater bar that comes standard on both our CM-25 and CM-50 ground drive manure spreaders used to be an optional feature at an extra charge. But we have changed that to now be a standard feature that is equipped on each ground drive model. This bar enhances your spreader's ability to spread evenly and effectively on every load. 
4 Adjustable

Web-Speeds
The CM-25 offers 4 different spreading speeds. You can adjust from a light dusting to a heavy coating depending on your specific needs with this manure spreader. One simple speed control lever allows you to easily switch between spreading speeds. 
COR-TEN Steel

Spreader Box

 
With our smallest manure spreader, you get a spreader box made of 12-gauge COR-TEN steel. This spreader box construction fights off corrosion and rust more effectively than some other spreader box constructions. You get a more reliable life out of all our spreaders, even the CM-25!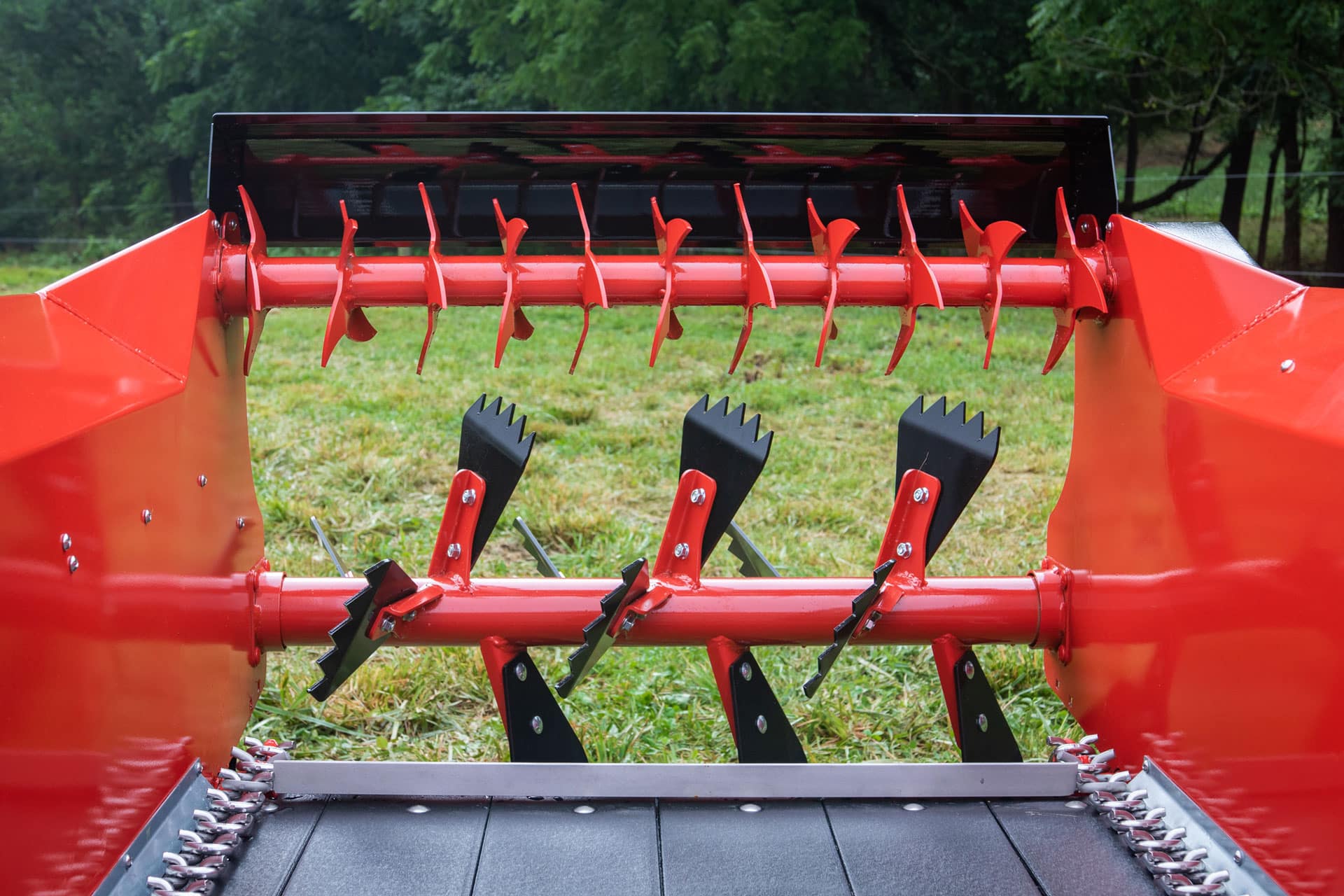 CM-25 Small Spreader

Optional Features 
In addition to the standard feature of this model, you have a number of optional features available to you as well. Conestoga Manufacturing offers the highest quality parts for optimal performance and longevity. You can choose any or all of these options to upgrade your small manure spreader investment with.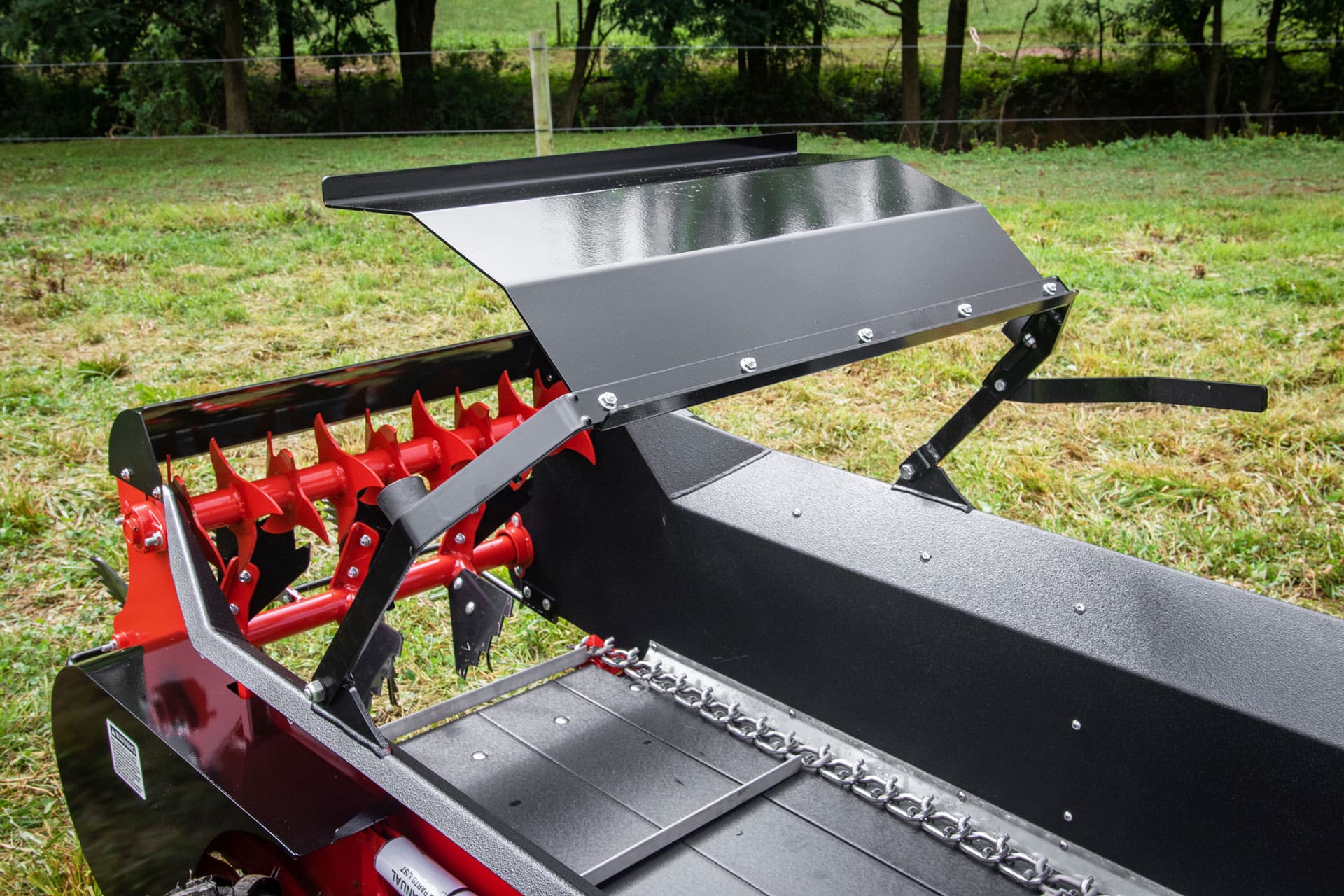 Dolly Wheel

Jack

 
The dolly wheel jack is a great optional feature to select for your small manure spreader. The adjustable height dolly wheel jack makes moving and storing your spreader easier. 
Fine Spread

Pan
The fine spread pan is another optional feature for the CM-25. Opting for this upgrade will make your spreading better and your work easier! 
Spreader Box

Raptor Liner
The raptor liner is a great upgrade to choose for your manure spreader investment. This protective coating will enhance the durability of your spreader box and help to further delay corrosion or rusting that it could experience over time. 
Manual

End Gate
We know that the best place for your manure is on your pasture or field. Adding a manul end gate to your small manure spreader will help to ensure that your field is where your manure goes and not on you!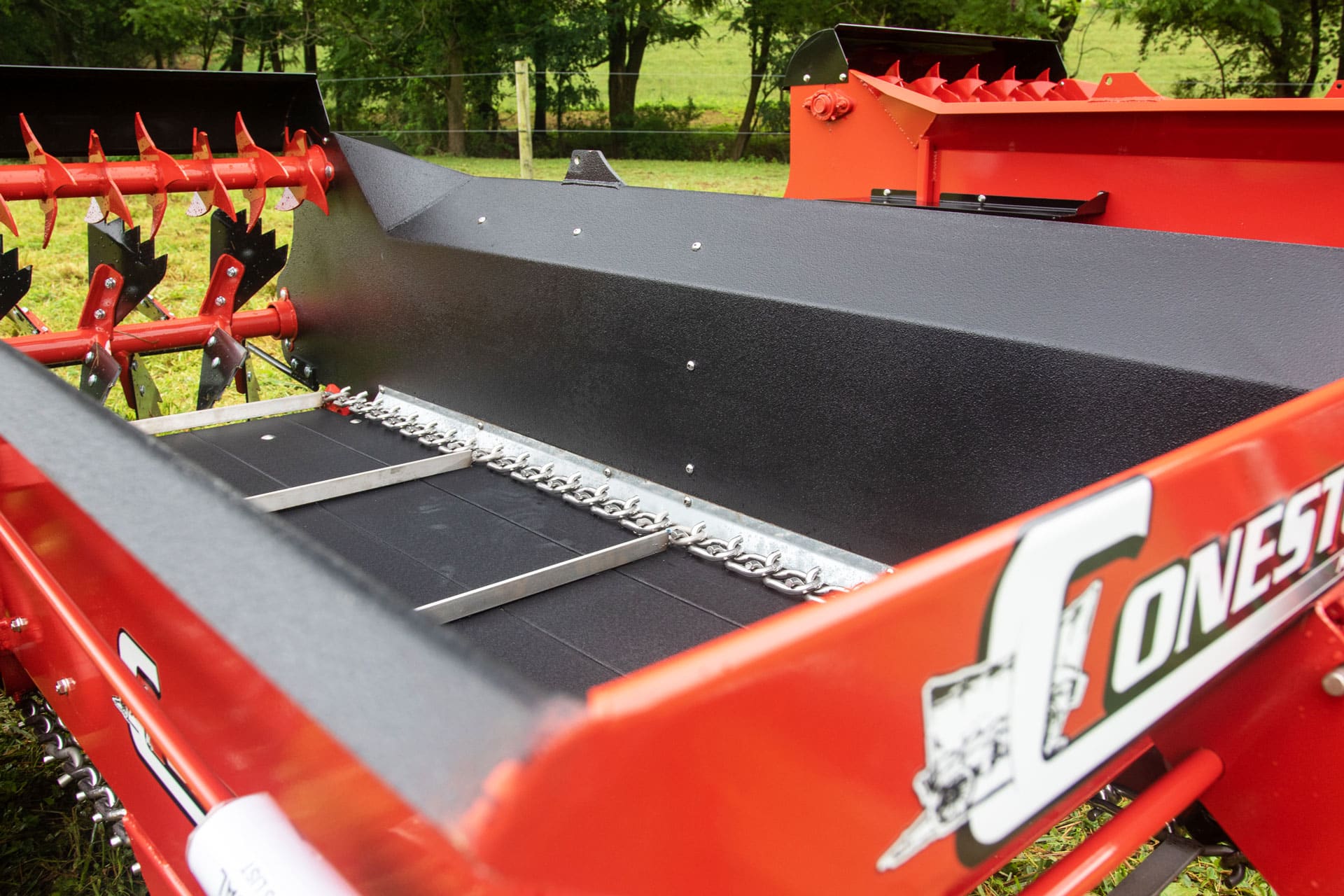 CM-25 Small Manure Spreader

Notable Features

 
We really love our smallest manure spreader and we know that you will too! We've named many of the great standard features and the optional features available for this model. But it's worth reiterating our favorites here. When you choose a small manure spreader from Conestoga you're getting a ground-driven spreader with a fully welded spreader box, poly-vinyl floorboards, 12 bolt-on rooster comb-style beater paddles, aggressive all-terrain tires, and an extra top beater bar for optimal spreading and shredding.
These are all standard features to make your investment as valuable as possible. We want you to be completely satisfied when you choose a Conestoga manure spreader and these notable features help make that your reality.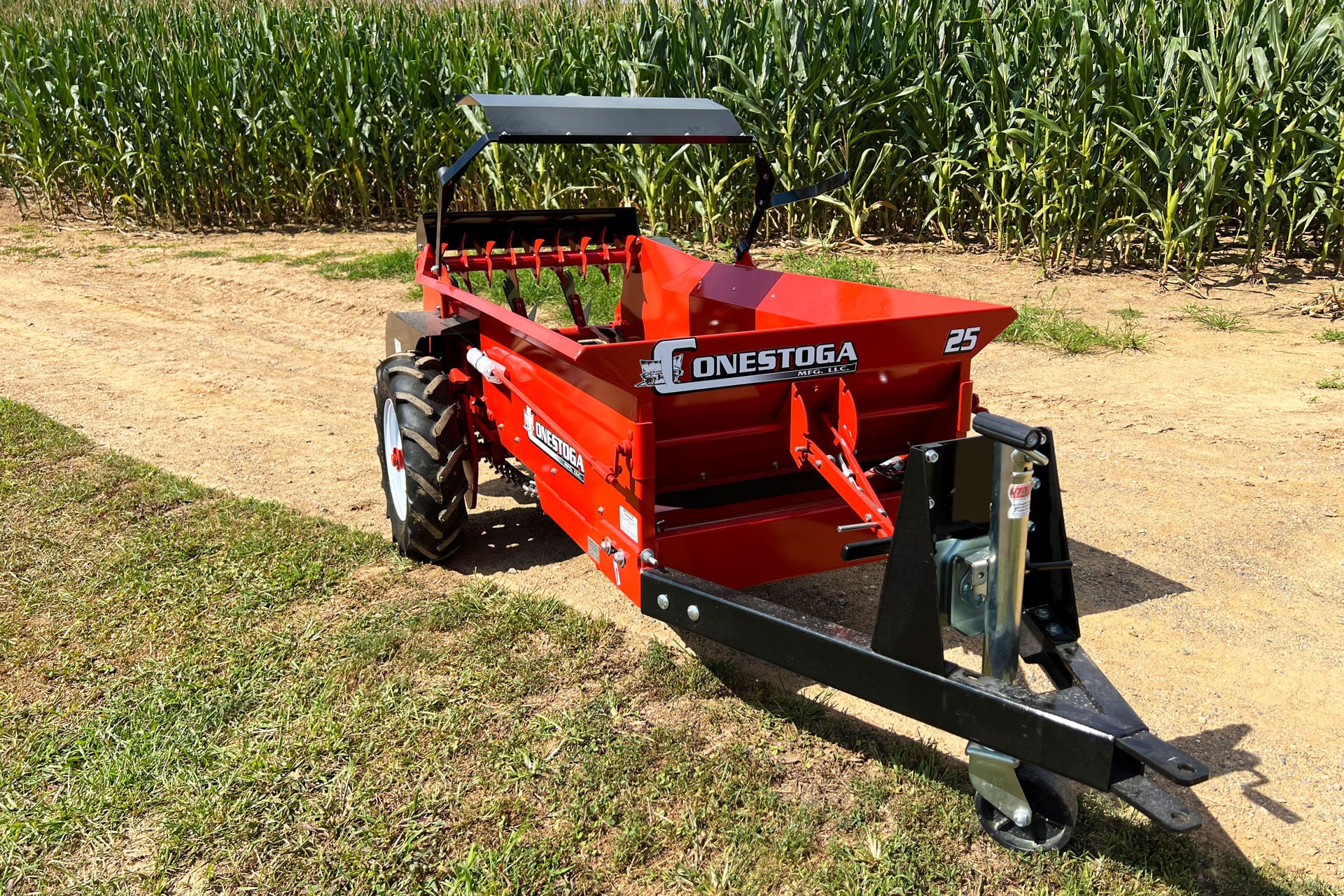 What Can You Spread With A CM-25

Manure Spreader 
Is there any type of manure you can't spread with a CM-25 from Conestoga? No! You can spread chicken, pig, horse, cow, or any other manure that you may need to dispose of on your farm or property. With the standard top beater bar, you can easily spread manure and hay or straw mixtures without any problems. We build every manure spreader to work as hard as you do so that you can get your work done better and faster. 
Ready For Your

Small Manure Spreader Quote?
Are you ready for your free quote on a small manure spreader? We ship manure spreaders anywhere in the continental United States and we're happy to help you figure out what manure spreader size is best for you. All you have to do is reach out and start the conversation! If you're the type that likes to have more information on your own before you contact us then check out our Manure Spreader Buyer's Guide and learn more on your own. We can't wait to work with you.