Small Ground Drive

Manure Spreaders

 
Conestoga Manufacturing offers two small manure spreader models in ground drive. We know that not everyone that has manure spreading needs has a large enough application for PTO manure spreaders. Our two ground drive models are built with the same high-quality materials as our larger manure spreaders.
Videos Of Conestoga's

Small Manure Spreaders

In Action

When deciding on what small manure spreader to invest in it's important to know you're purchasing what you're actually looking for. Pictures can be a great way to see what a brand has to offer but videos of their manure spreaders in action are even better, check out our Manure Spreader Videos Page to see videos of our small manure spreaders working hard and other videos about maintenance and features. 
CM-25 Ground Driven

Manure Spreader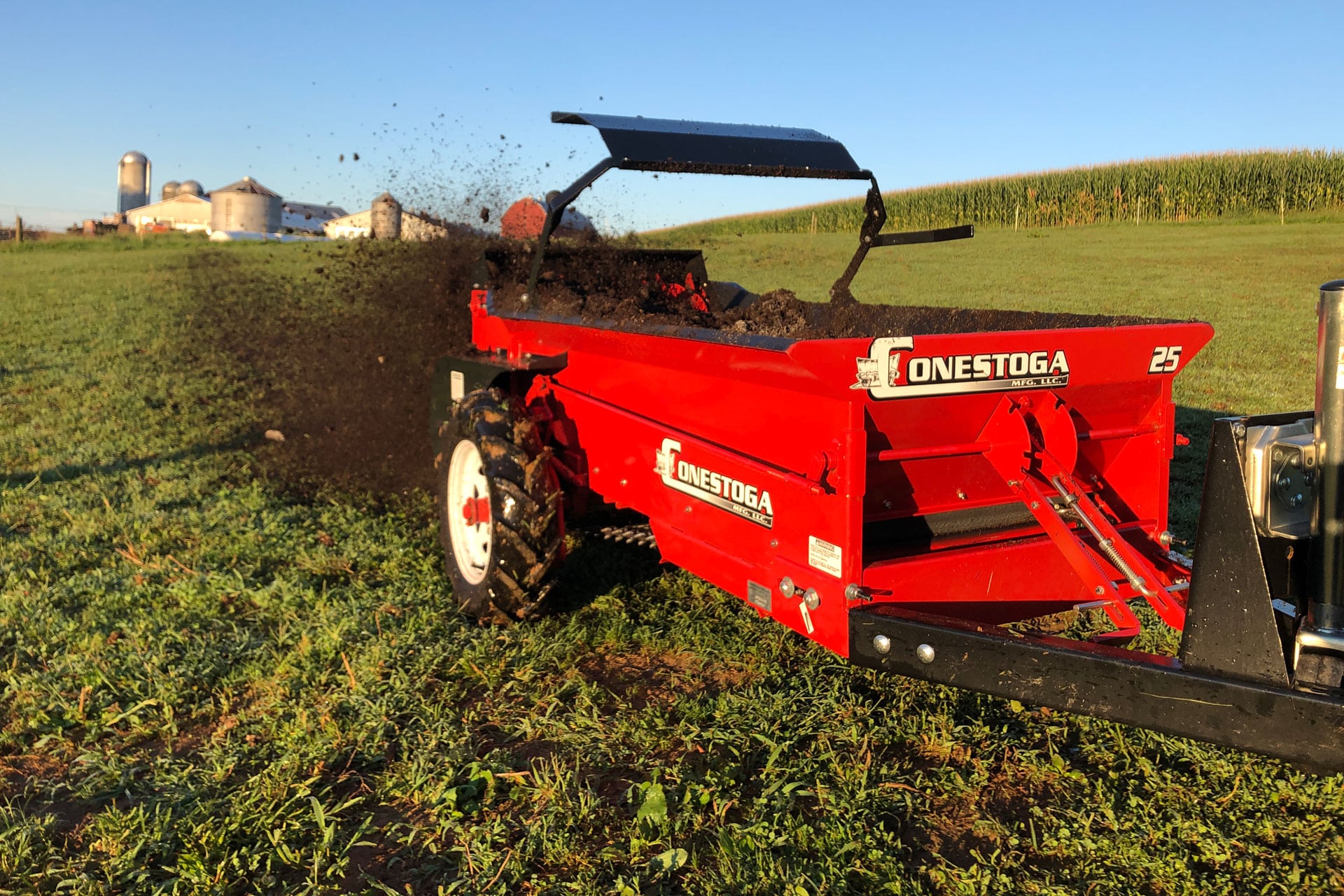 The CM-25 is our smallest manure spreader, sometimes referred to as our ATV manure spreader. The CM-25 offers a 25 cubic foot heaped capacity and comes standard with a top beater bar. Only our ground-driven manure spreaders come standard with these top beater bars.
As our smallest manure spreader, the CM-25 can easily be pulled by ATVs, UTVs, lawn and garden tractors and other small tractors. It is perfect for keeping up with the manure production of 1-5 horses. 
CM-50 Ground Drive

Manure Spreader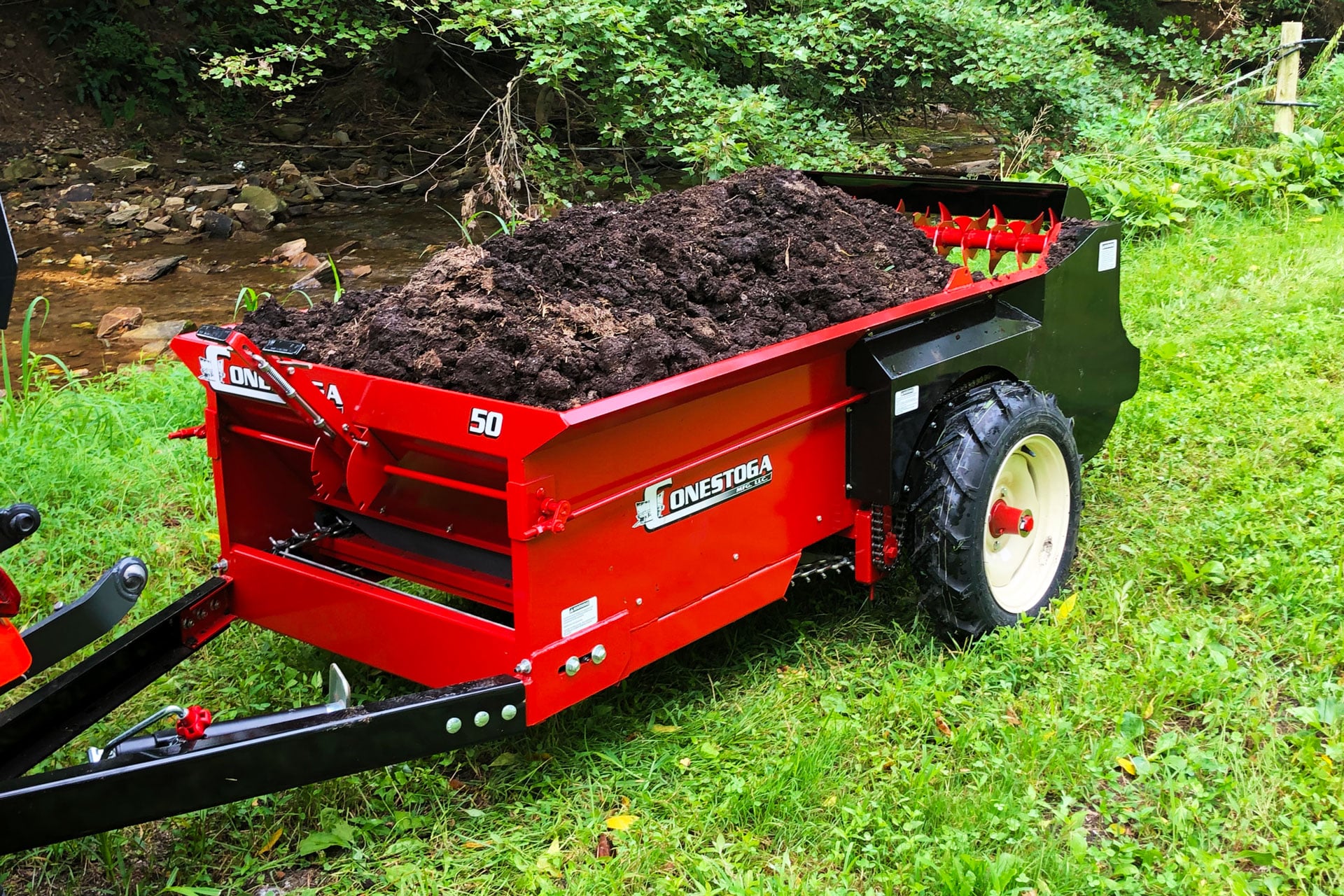 The CM-50 ground-driven manure spreader is our second small manure spreader powered by a ground drive system. It can hold twice as much manure as the CM-25. You will be able to fill this small manure spreader with 50 cubic feet of heaped manure. 
Even though it is twice the size of our CM-25, the CM-50 is still very much a compact manure spreader. The top beater bar is a standard feature you can appreciate and enjoy on this model. If you are spreading manure for 5-11 horses and are not interested in a PTO manure spreader then the CM-50 is the machine for you.
Small PTO Drive

Manure Spreaders
If you have a small to medium farming operation and a tractor with PTO drive capabilities then you may be interested in one of our smaller PTO spreaders. These machines are built to work as hard as you do and are made from high-quality, dependable materials.
C50-PTO Drive

Manure Spreader

 
The C50-PTO manure spreader is our smallest PTO drive spreader. It features 50 cubic feet of heaped capacity for you to manage the manure production of your farm. It goes without saying that this small PTO manure spreader does require a tractor with PTO capabilities in order to operate it. Yes, it is exactly the same size as the CM-50 ground-driven manure spreader, this model just offers PTO drive capabilities instead of ground drive.
Popular optional features for this spreader are a top beater bar and manure spreader box raptor liner for added protection. If you need the smallest possible PTO manure spreader for 5-11 horses then consider the C50 from Conestoga.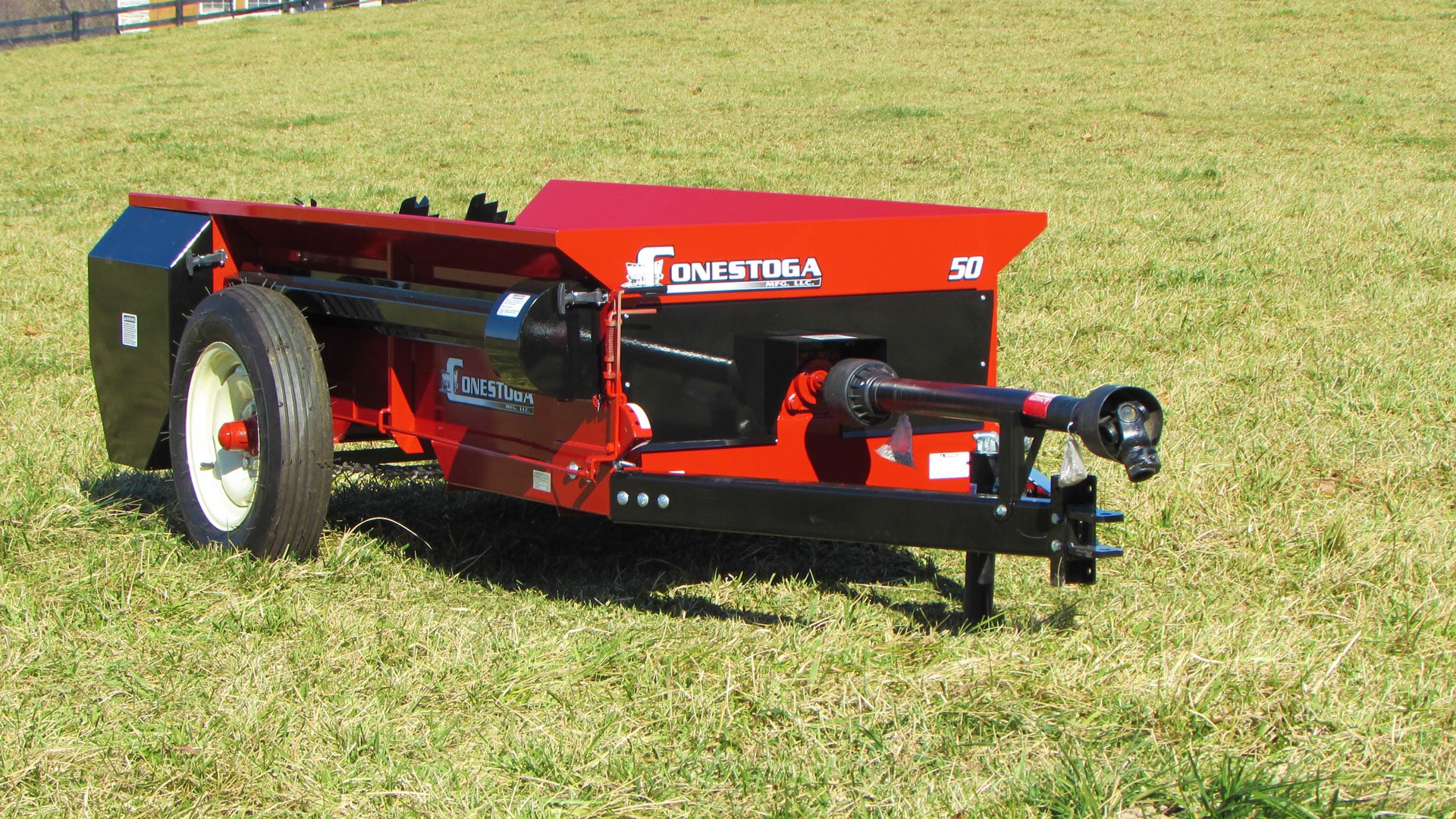 C80-PTO Drive

Manure Spreader

 
The C80-PTO manure spreader from Conestoga is the largest small manure spreader in our lineup. Arguably you could classify it as a medium-sized manure spreader but it's less confusing to just say that it is an 80 cubic foot heaped capacity small manure spreader. 
If the manure production at your farm is in the range of what 11-20 horses will produce in a day or a week then this may be the spreader for you. We sometimes refer to it as the horse manure spreader as it is a popular spreader model among horse farmers and horse enthusiasts.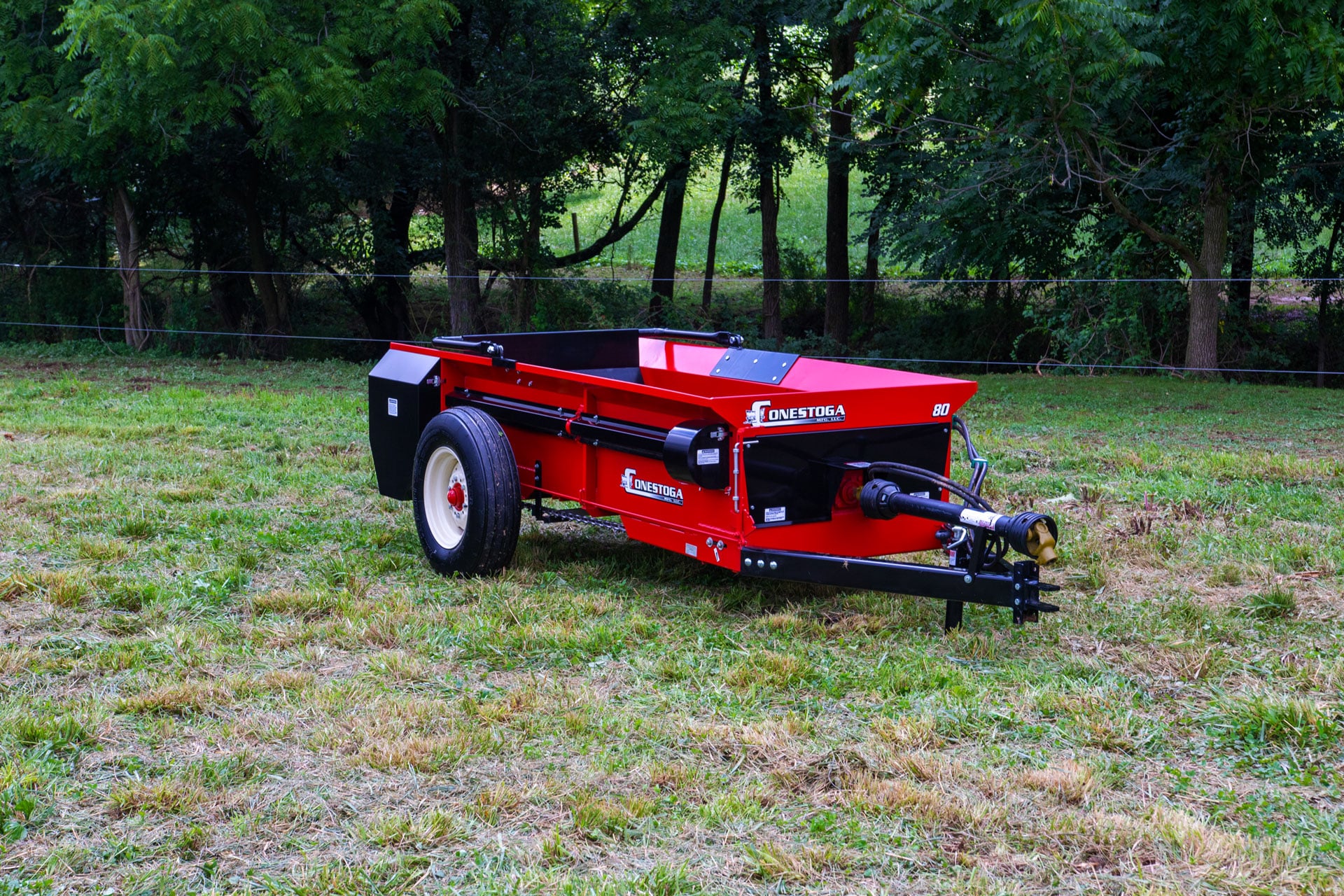 Which Small Manure Spreader

Is Best For You?
You may not be totally sure what size small manure spreader is best for you? Well, that's ok. Choosing the right manure spreader whether small or large is important. You don't want to invest in too much manure spreader that you don't need. And you don't want to purchase a spreader that isn't large enough to handle the manure production on your farm. 
Key considerations when determining what size manure spreader is best for your small spreader needs: how many animals are you spreading manure for, how often do you want to be spreading manure, and is your manure spreader built to handle manure waiting to be spread for more than one day? For a helpful blog check out our article "What Size Manure Spreader Is Best?".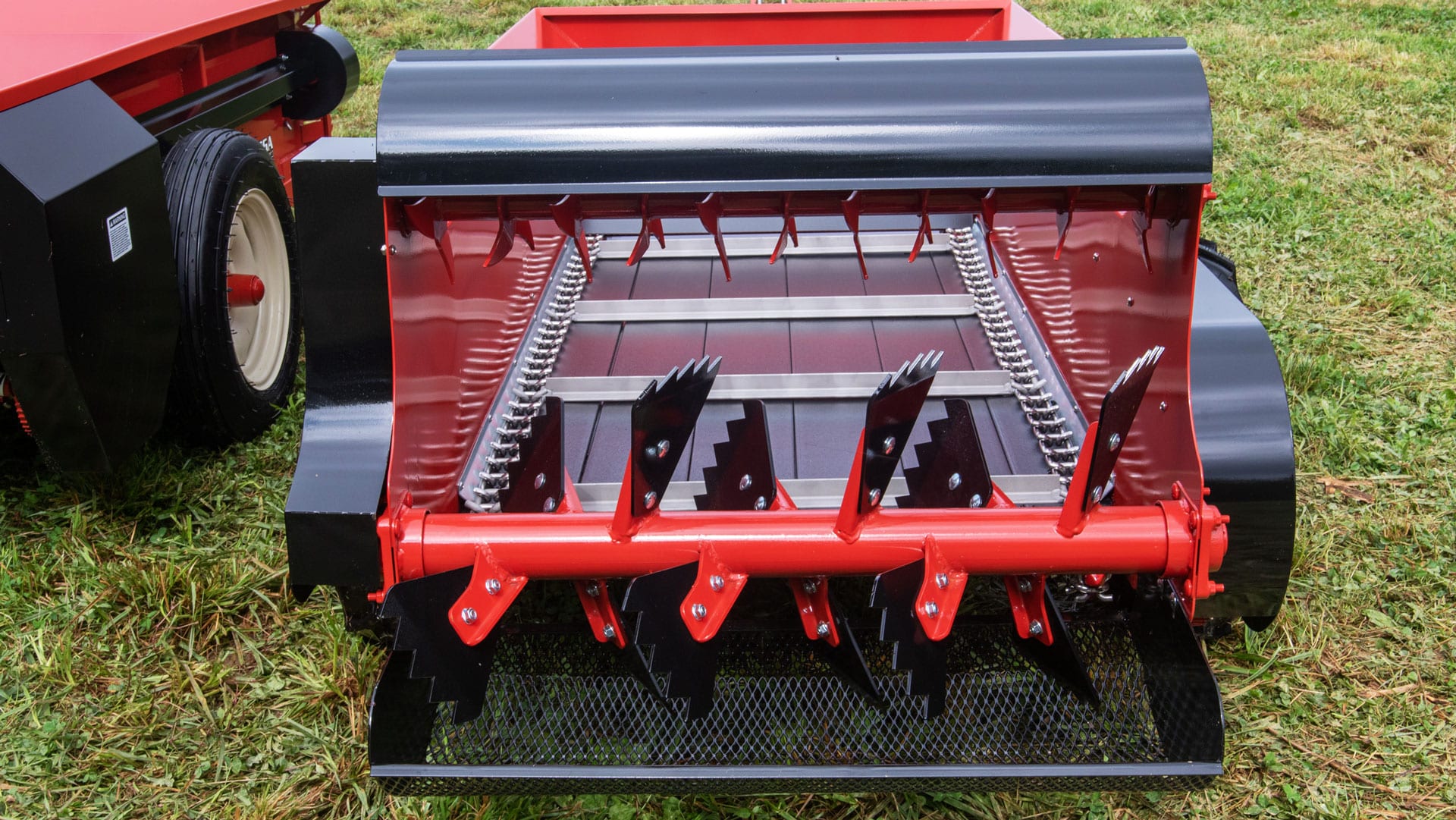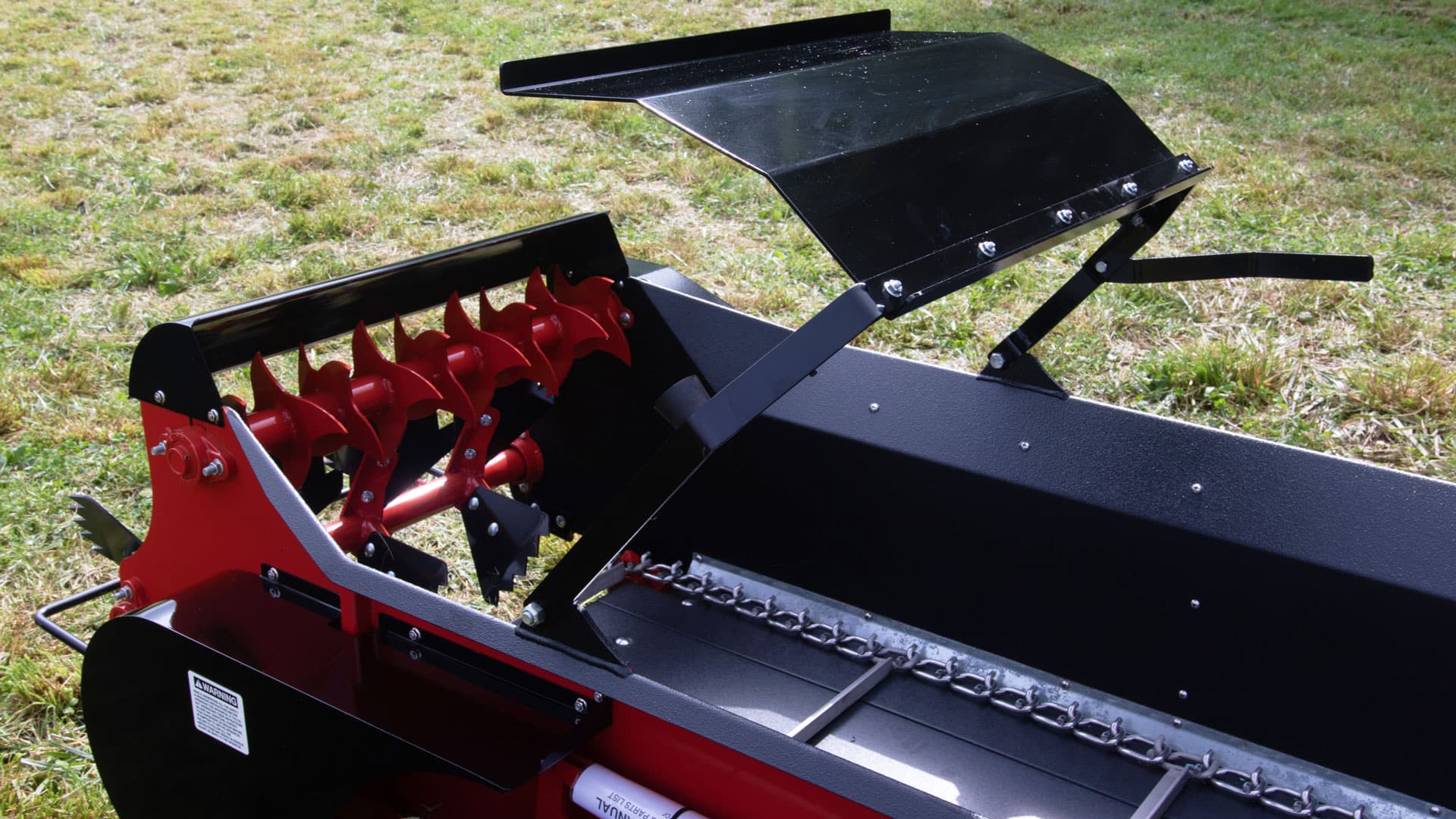 Small Manure Spreader

Standard Features

 
Conestoga Manufacturing takes providing you with the best possible small manure spreader options very seriously. Because of that each of our small spreaders have a number of high-quality standard features we believe set us apart from our competition.
Stainless Steel

Apron Chains
Large and small manure spreaders alike can have a very weak area in their design and that is the apron chain. Because of this common failure of many manure spreader models we made the decision to make every spreader model we offer with a standard stainless steel apron chain. You can rely on our apron chains to last much longer than competitor models and possibly the life of your spreader.
Steel Welded

Spreader Box
Conestoga manure spreaders come standard with COR-TEN steel welded spreader boxes. We then coat our spreader boxes with special paint that further help to protect against rust and decay over time.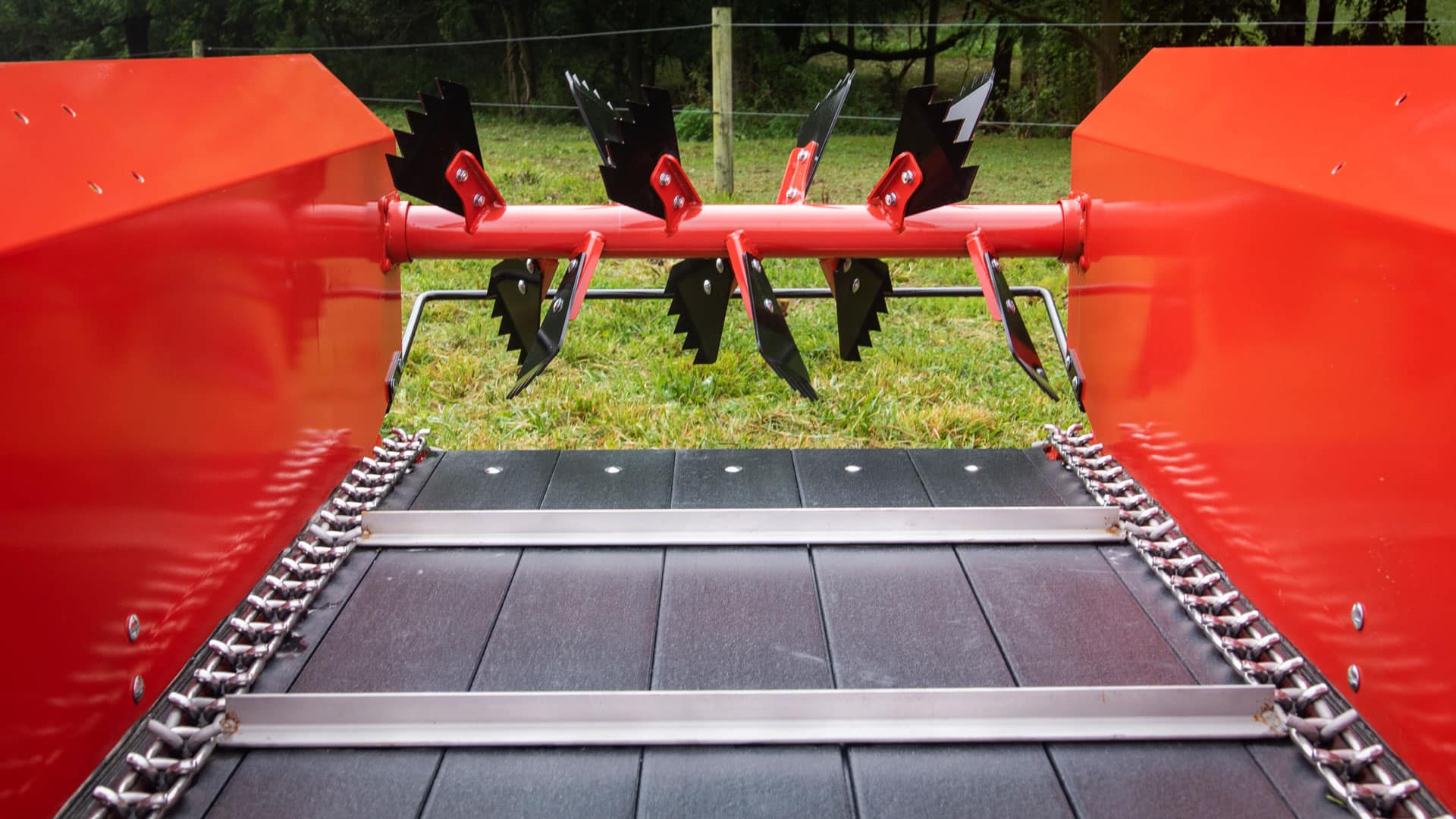 Poly-Vinyl Spreader

Floor Boards
This is another classic weak point for a lot of manure spreader designs. Especially if you are not always able to spread your manure immediately after loading up your spreader (we get it, we all lead busy lives!), you could potentially experience rot in your floor boards. At Conestoga we build every manure spreader both large and small with poly-vinyl floor boards so you don't have to worry about rot even if you spread every couple of days.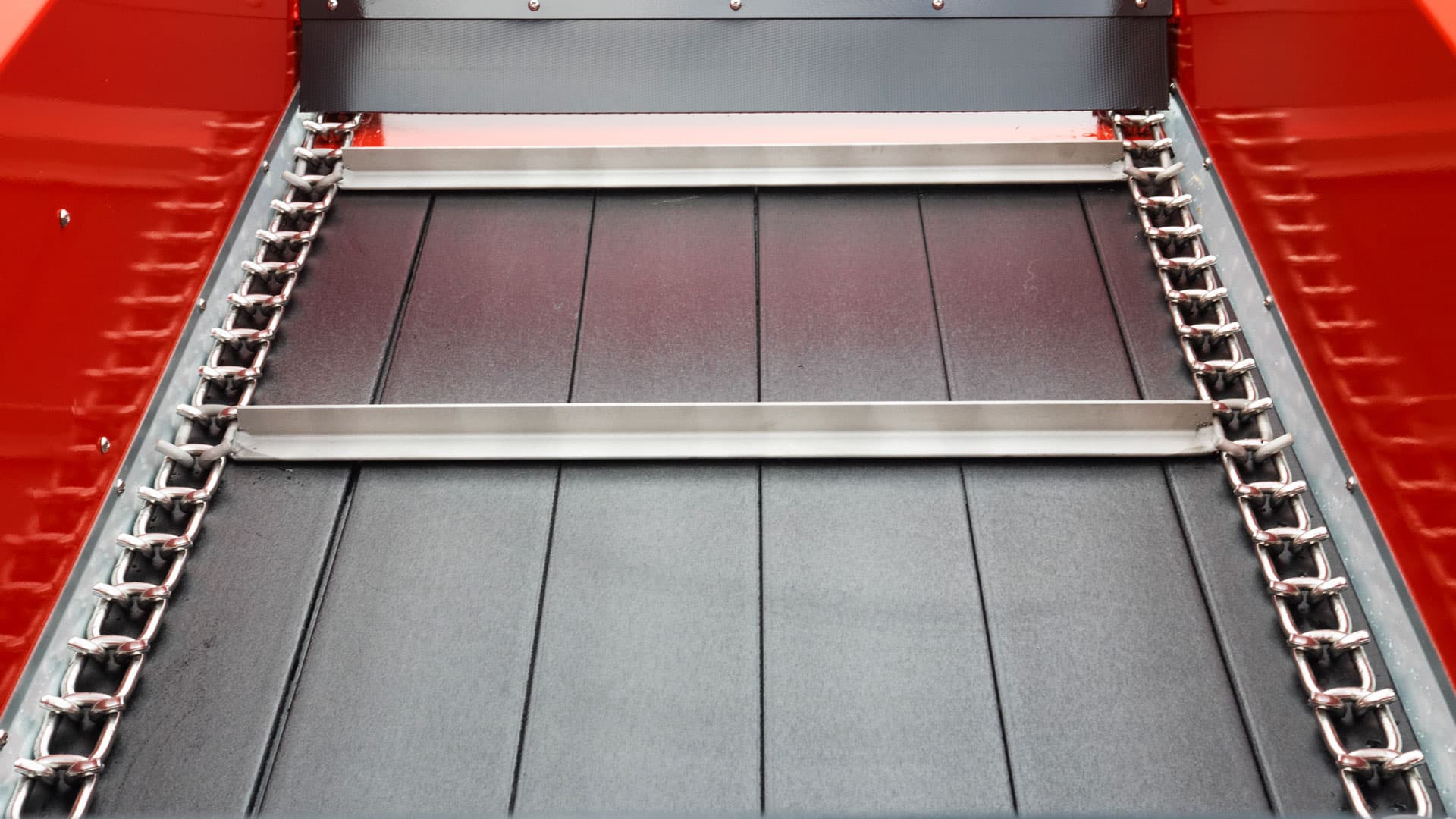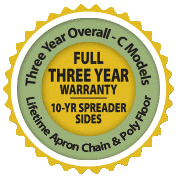 Conestoga now offers a 10 Year Warranty on its spreader sides, a 3 Year full warranty on all C-model compact spreaders, a lifetime guarantee on the polyvinyl floor, and a lifetime guarantee on the stainless chain.
These warranties do not cover mishandling or abuse of the product.
We Support a Charity with each purchase:

Conestoga Mfg. supports a local, non-profit organization that uses horses for the good of humanity. This organization is Greystone Manor Therapeutic Riding Center (GMTRC), PO Box 10724, Lancaster, PA 17605-0724, a non-profit organization that has been providing quality equine assisted activities for children and adults with special needs since 1981.Conestoga has agreed to partner with GMTRC and to pay them a portion of its income from each spreader sold.