Ask about our Short Lead Times!
CONESTOGA

MANUFACTURING
AMERICAN MADE FARM EQUIPMENT TO MEET YOUR NEEDS
Conestoga Manufacturing is dedicated to building quality, American made Manure Spreaders, Drop Spreaders, and Manure Pumps that will help you get the job done right. Our equipment lines are ideal for small farms, organic farms, and horse lovers.
We've designed and built equipment for daily use that will hold up over time. Our Manure Spreaders feature standard quality measures that can't be found on competitive models. You can easily tow our manure spreaders and drop spreaders with lawn tractors, ATVs, or larger farm tractors.
No matter what your application needs are, we've got a piece of machinery right for you.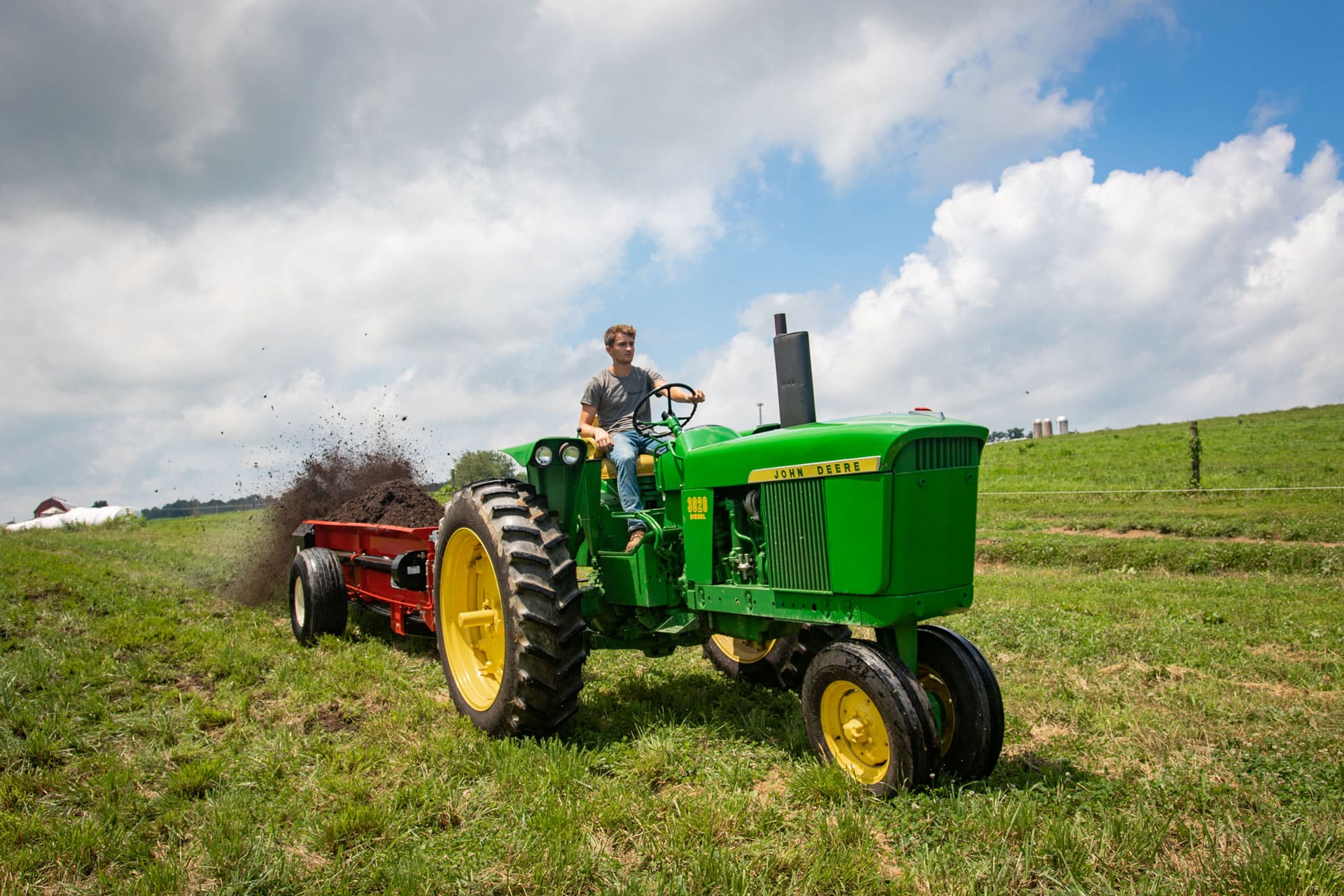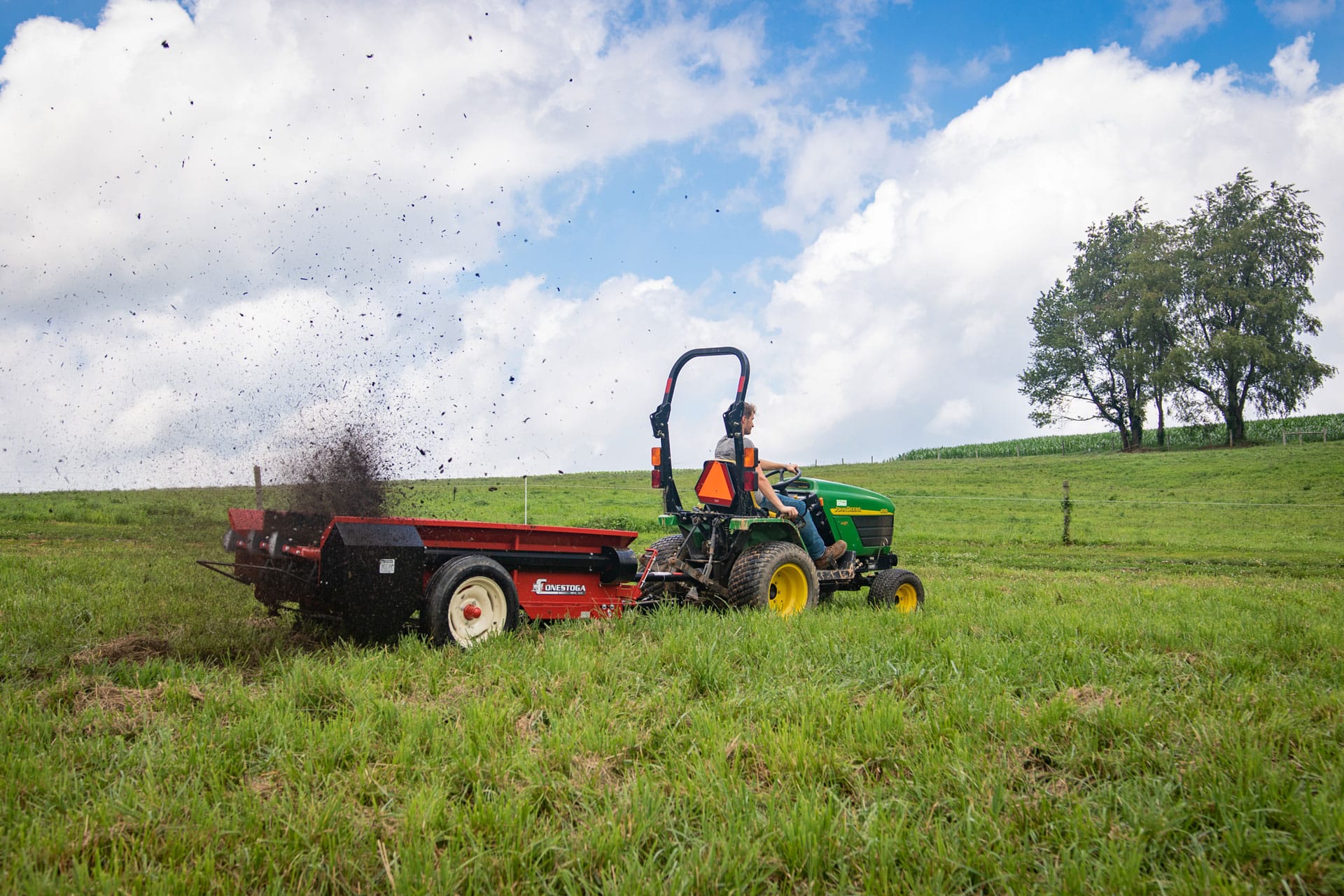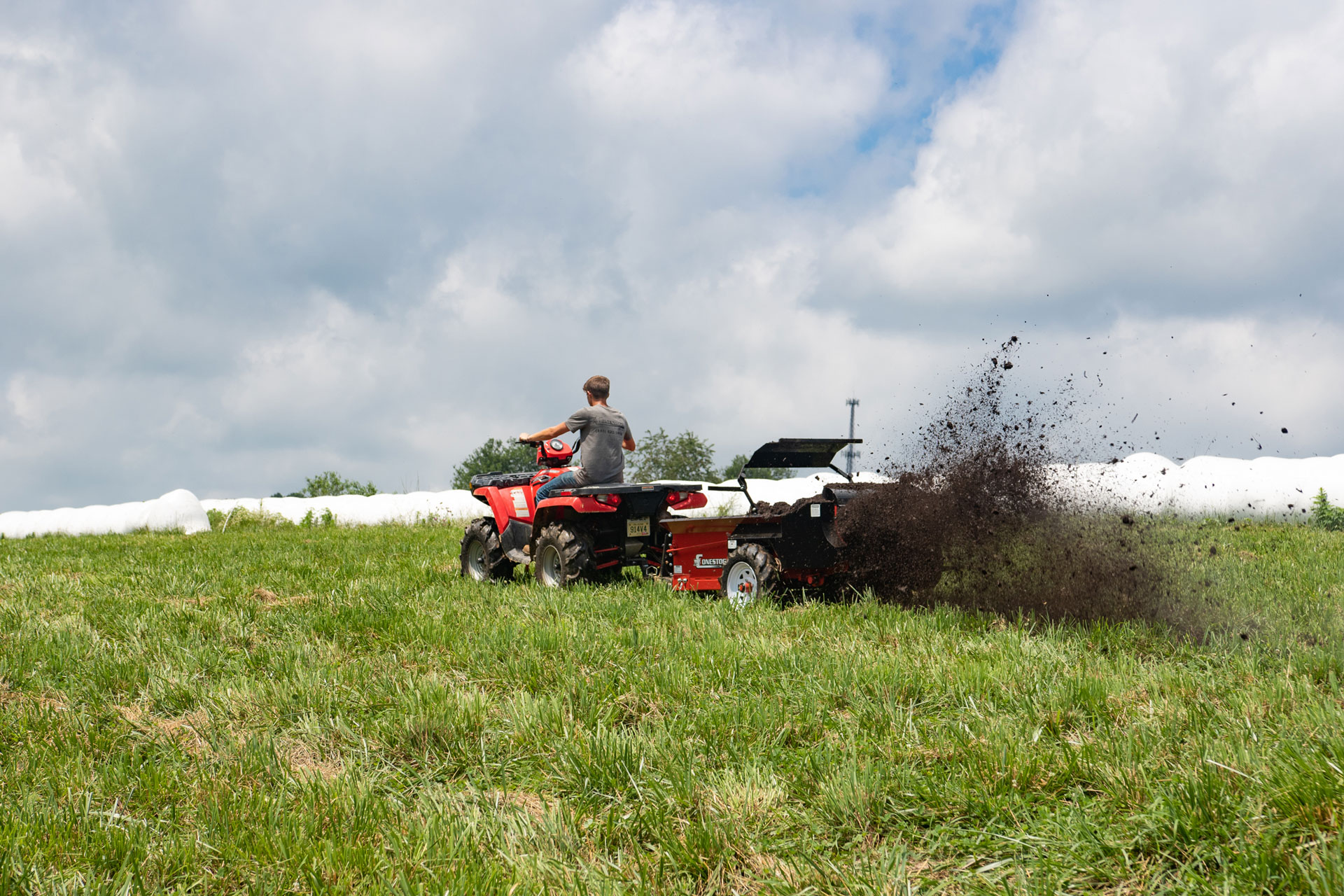 CONESTOGA

MANURE SPREADER
STAINLESS STEEL

APRON CHAINS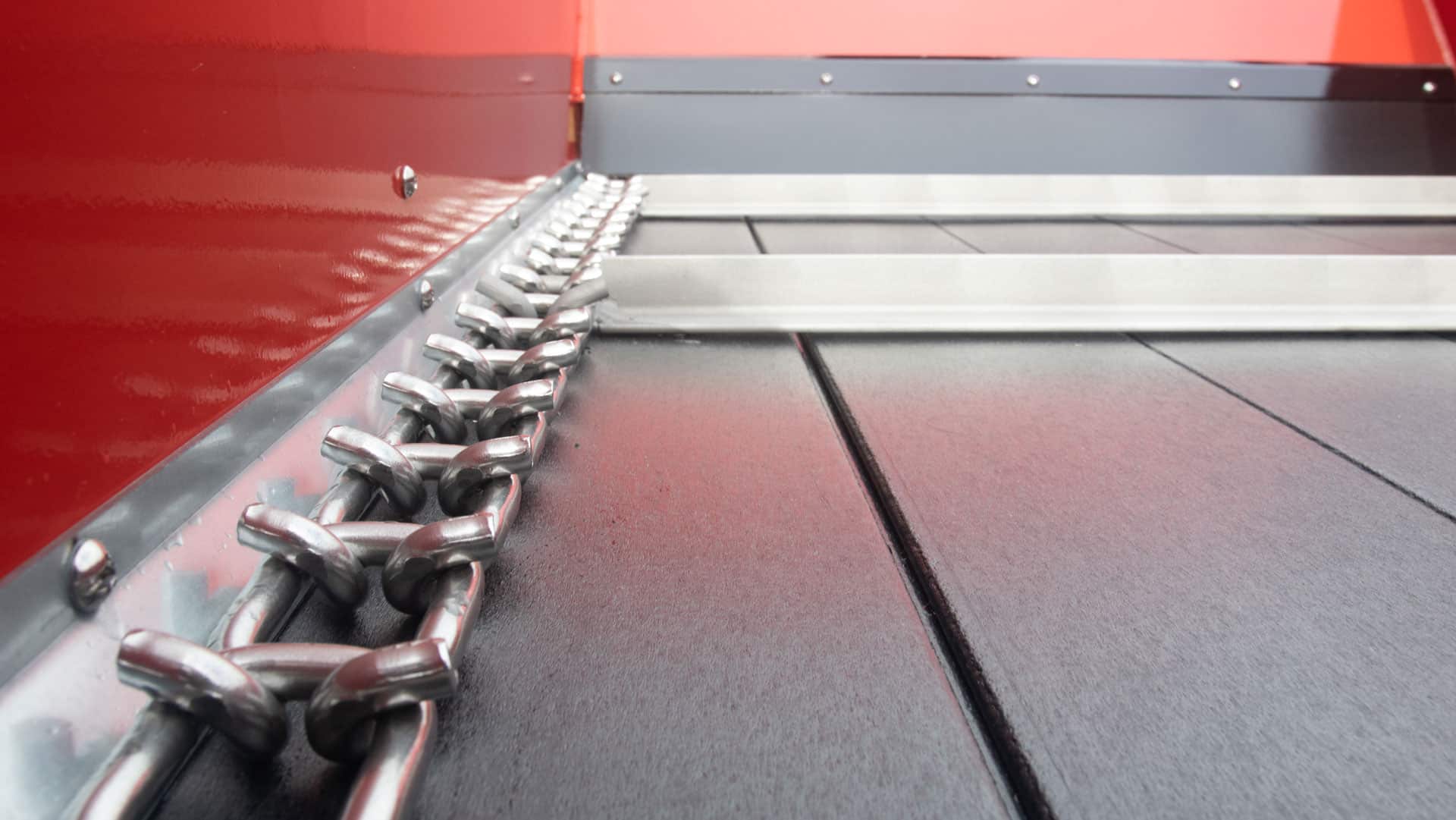 Stainless Steel
Apron Chains
Lifetime Guarantee
All Conestoga Manure Spreaders come equipped with Stainless Steel Apron Chains and a Lifetime Guarantee on each apron chain. Our apron chains will not rust through. You will get years and years of consitent performance out of our manure spreaders and never have to worry about repairing or replacing rusted through apron chains.
Replacing apron chains can easily cost $500.00 or more. You will save money with a Stainless Steel Apron Chain and never have to wait on your spreader to be repaired because of a broken chain. Click the button below to get a free price quote on a Conestoga Manure Spreader today.
CONESTOGA MANUFACTURING

WARRANTIES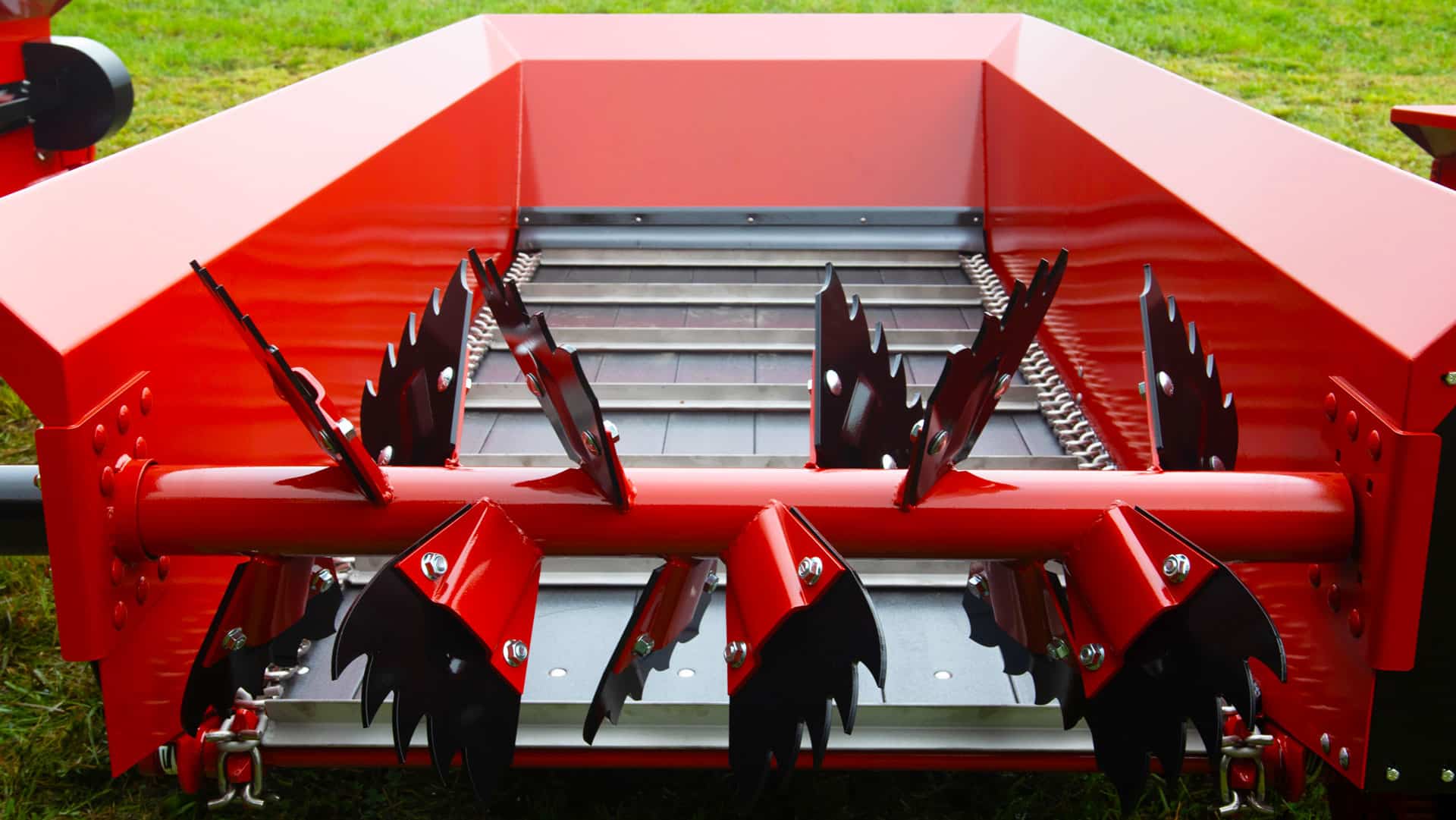 10-YEAR Spreader Frame/
Spreader Box Warranty
All of Conestoga Manufacturing's Manure Spreaders feature a 10-YEAR Spreader Frame/Spreader Box rust-through warranty. We're so confident that you won't have rust-through issues with your manure spreader's box or frame that we offer this great 10-YEAR warranty.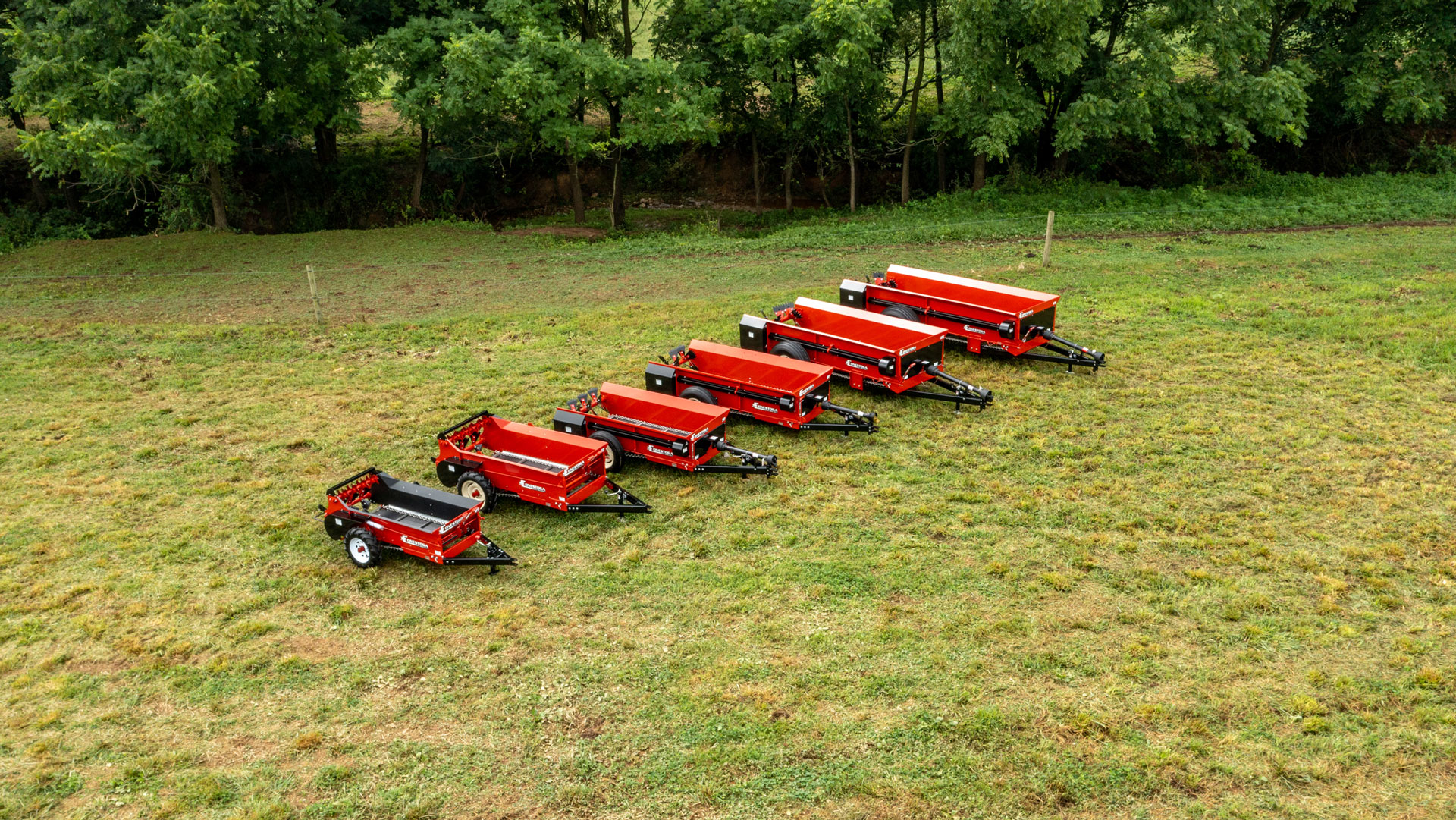 3-YEAR Mechanical
Warranty
Another warranty guarantee from Conestoga Manufacturing is our 3-YEAR Mechanical Warranty. We'll take care of any unforeseen mechanical issues you have with your manure spreader within the first 3 years of ownership. This mechanical warranty does not apply to commercial farming use or abuse of the manure spreader.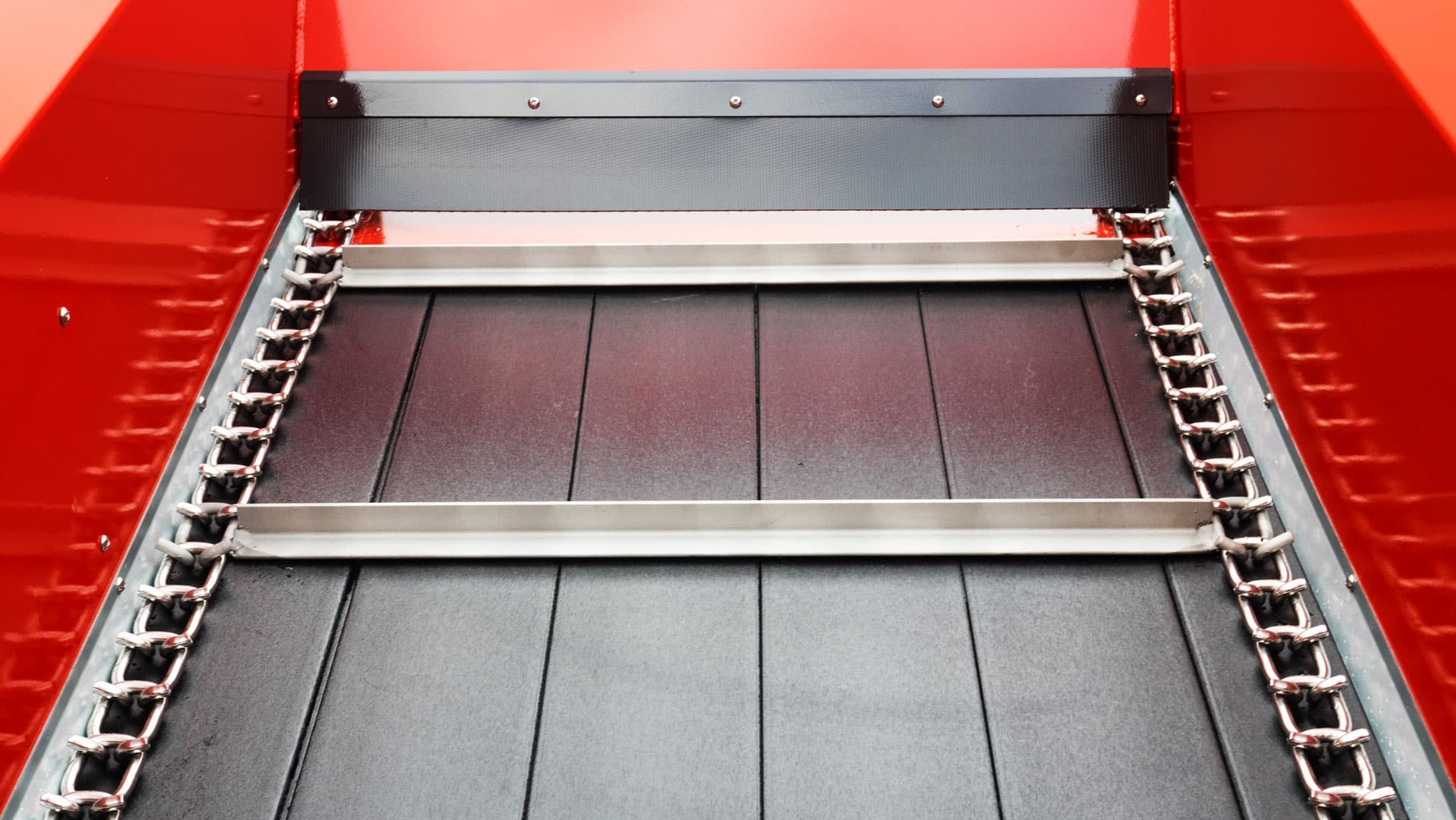 LIFETIME Poly-Vinyl Floor
Warranty
Conestoga Manufacturing offers a LIFETIME Warranty on all of our manure spreader poly-vinyl flooring. Our poly-vinyl flooring will last the lifetime of your spreader. Our poly-vinyl floor boards are made from similar material that a lot of exterior poly-vinyl deck boards are made out of. Traditional wooden floor boards will rot out over time from regular use but our boards hold up against time and regular use.
CONESTOGA

MANURE SPREADERS
What

Types

Of Manure Can You Spread?
You can spread all types of manure with a Conestoga Manure Spreader! Our spreaders are designed to handle whatever type of manure you want to spread. People often think that our spreaders are only for horse manure but that is not true at all. You can spread any manure with our spreaders.
You can spread chicken manure, pig manure, cow manure, goat manure, horse manure, and whatever else your job calls for. Our manure spreaders are set up to spread mixes of straw and manure as well. You will find that our spreaders are versatile and built to help you take care of all your spreading needs.
Ground Driven
Manure Spreaders
The CM-25 and CM-50 are Conestoga Manufacturing's 2 grounf driven manure spreaders. These spreaders can easily be towed with garden tractors, lawn mowers, ATVs, UTVs, or even pickup trucks with at least 13 hp. Because these spreaders run off of a ground drive system you just need to get them moving to get them spreading.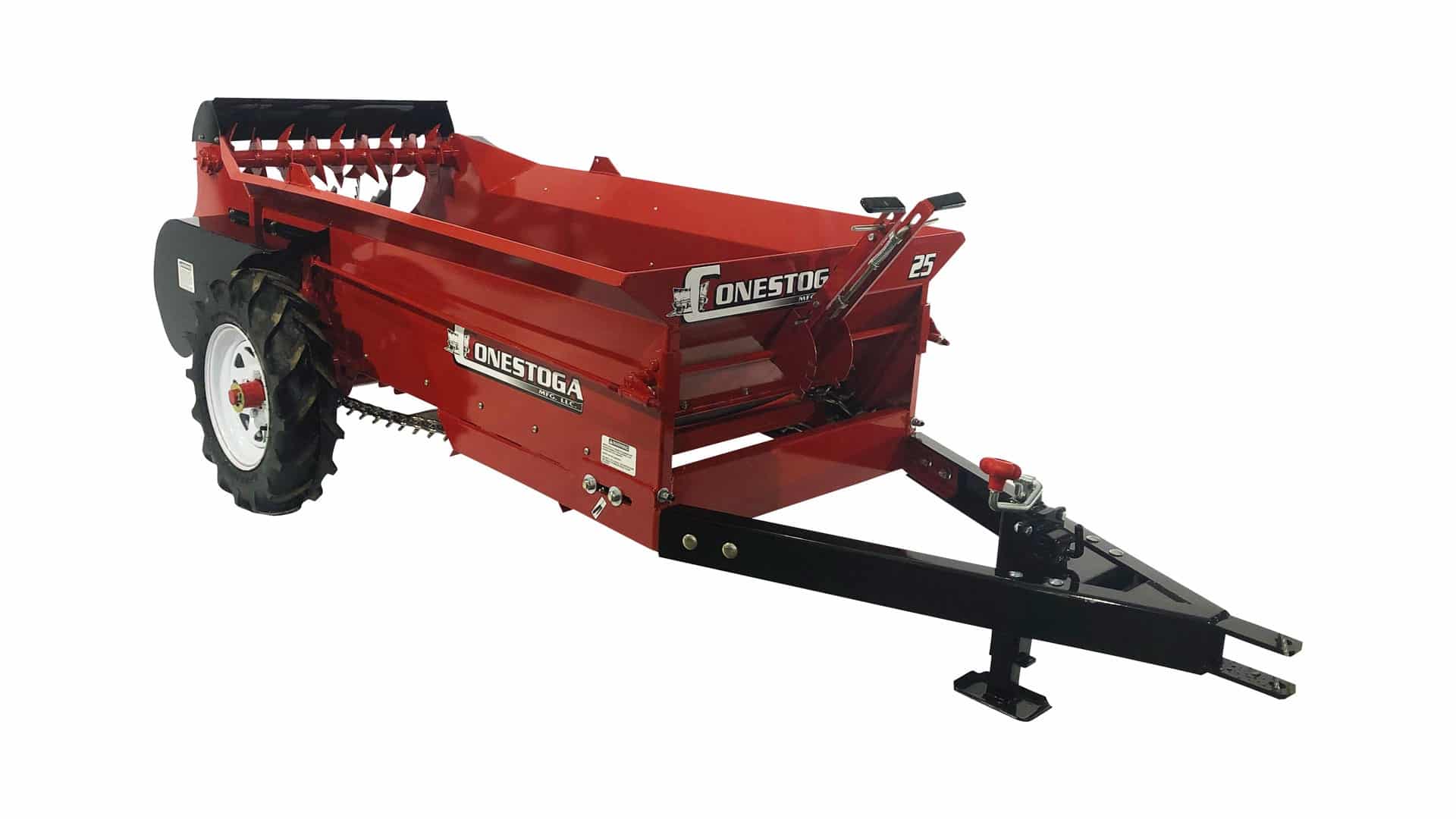 The CM-25 is designed for 1-5 horses. It has a heaped capacity of 26 cu. ft. and requires a minimum of 13 hp to tow fully loaded.
The CM-50 is  designed for 5-11 horses. It has a heaped capacity of 50 cu. ft. and requires a minimum of 18 hp to tow fully loaded.
PTO Driven
Manure Spreaders
Our Power Take Off (PTO) drive manure spreaders are the big guns, the heavy hitters. If you have 5 or more horses then you're going to want to consider one of these machines for your operation. Built from quality material and made in America, our PTO spreaders can stand the test of time and do the work you need them to do.
We have developed 4 different sized PTO manure spreaders. These four spreaders can be towed with any tractor that has PTO capabilities. The minimum PTO hp requried to pull the smallest of our PTO manure spreaders (the C-50 PTO) is 15 PTO.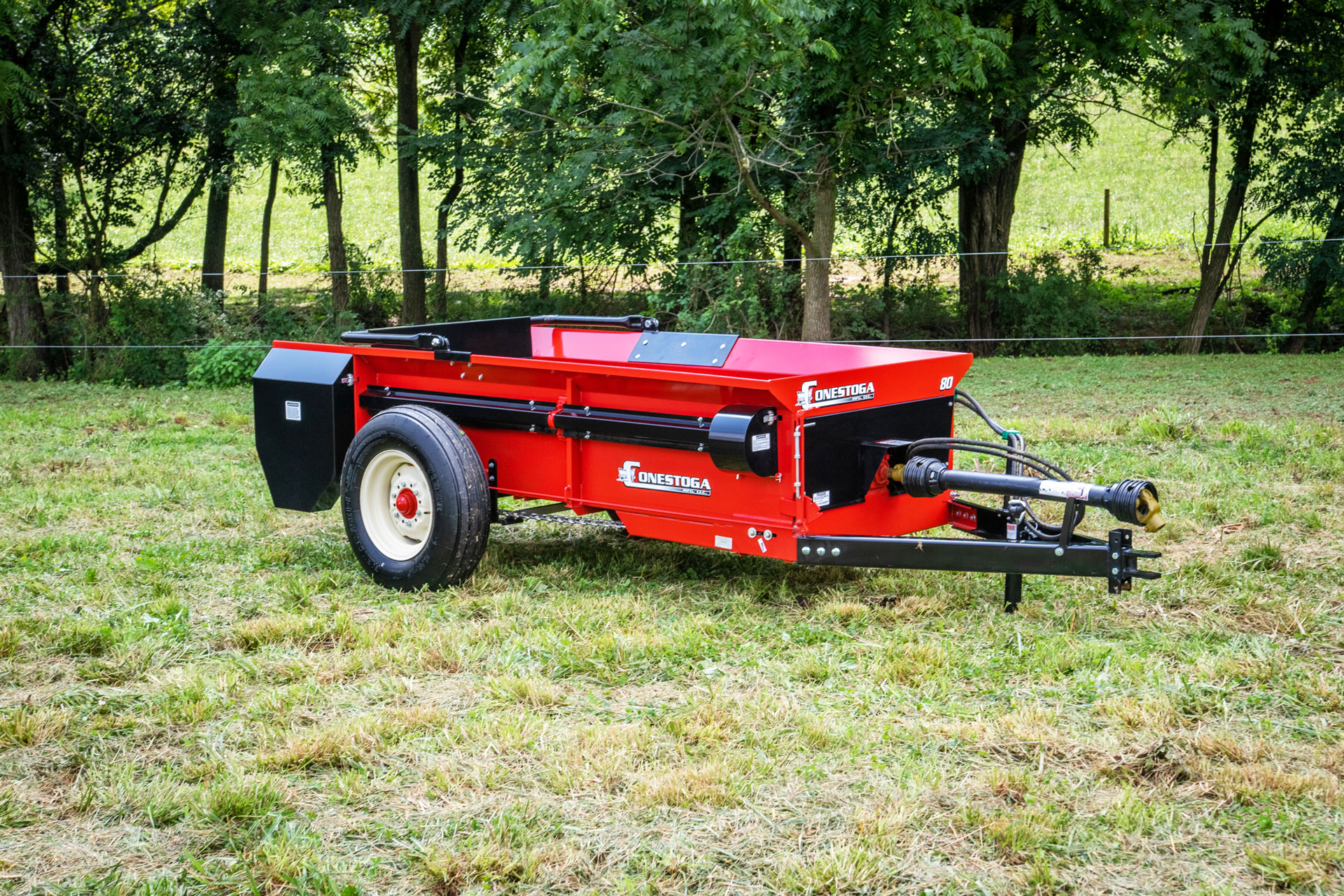 The C-50 is designed for 5-11 horses. It has a heaped capacity of 50 cu. ft. and requires a minimum of 15 PTO hp to tow and spread.
The C-80 is designed for 11-20 horses. It has a heaped capacity of 84 cu. ft. and requires a minimum of 18 PTO hp to tow and spread.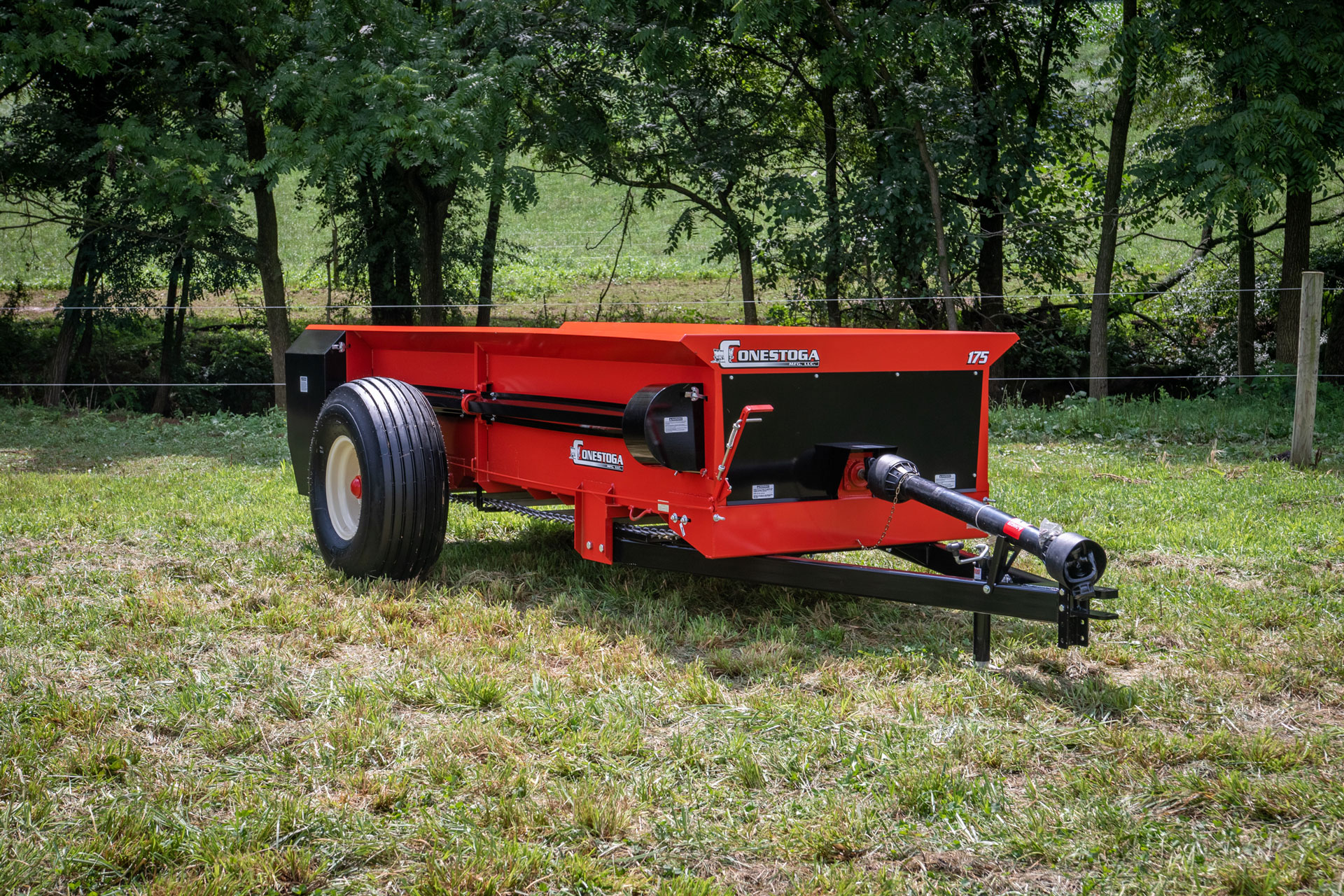 The C-125 is designed for 21-25 horses. It has a heaped capacity of 125 cu. ft. and requires a minimum of 35 PTO hp to tow and spread.
The C-175 is designed for 25+ horses. It has a heaped capacity of 175 cu. ft. and requires a minimum of 40 PTO hp to tow and spread.
Conestoga Liquid
Manure Pumps
At Conestoga, we sell more than just manure spreaders. We also manufacture and sell Liquid Manure Pumps in 2 different options, either a 2 Point Hitch model or a Trailered model. You can choose which pump will fit your needs best and get a quote from us by reaching out.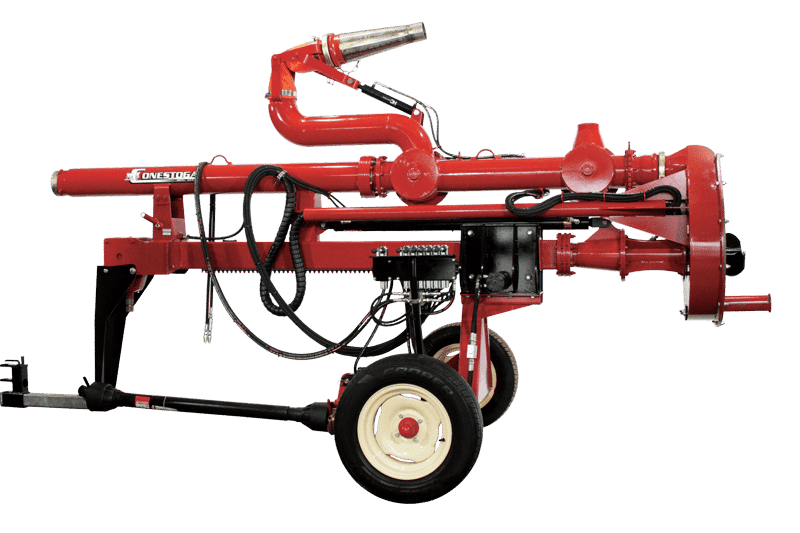 The 2 Point Hitch Model utilizes a 2 point hitch system toconnect to the tractor. This pump needs at least 90-140 hp (depending on the model) and a USA Gear Box Shaft of 1-3/4×20.
The Trailered model manure pump (pictured) uses only the tractor drawbar hitch point. The smallest model needs 90 hp, and the largest model uses 130 hp.
Conestoga Manufacturing is proud to make quality, stainless-steel, made in America drop spreaders. These drop spreaders can handle lime, salt, sand, fertilizer, and more with guaranteed reliability and ease of use. Whether you have a big yard, landscaping business, small farm, or larger property we have have a drop spreader for you. Our DSC line of spreaders come in three different sizes but are all manufactured with the same level of quality and excellence.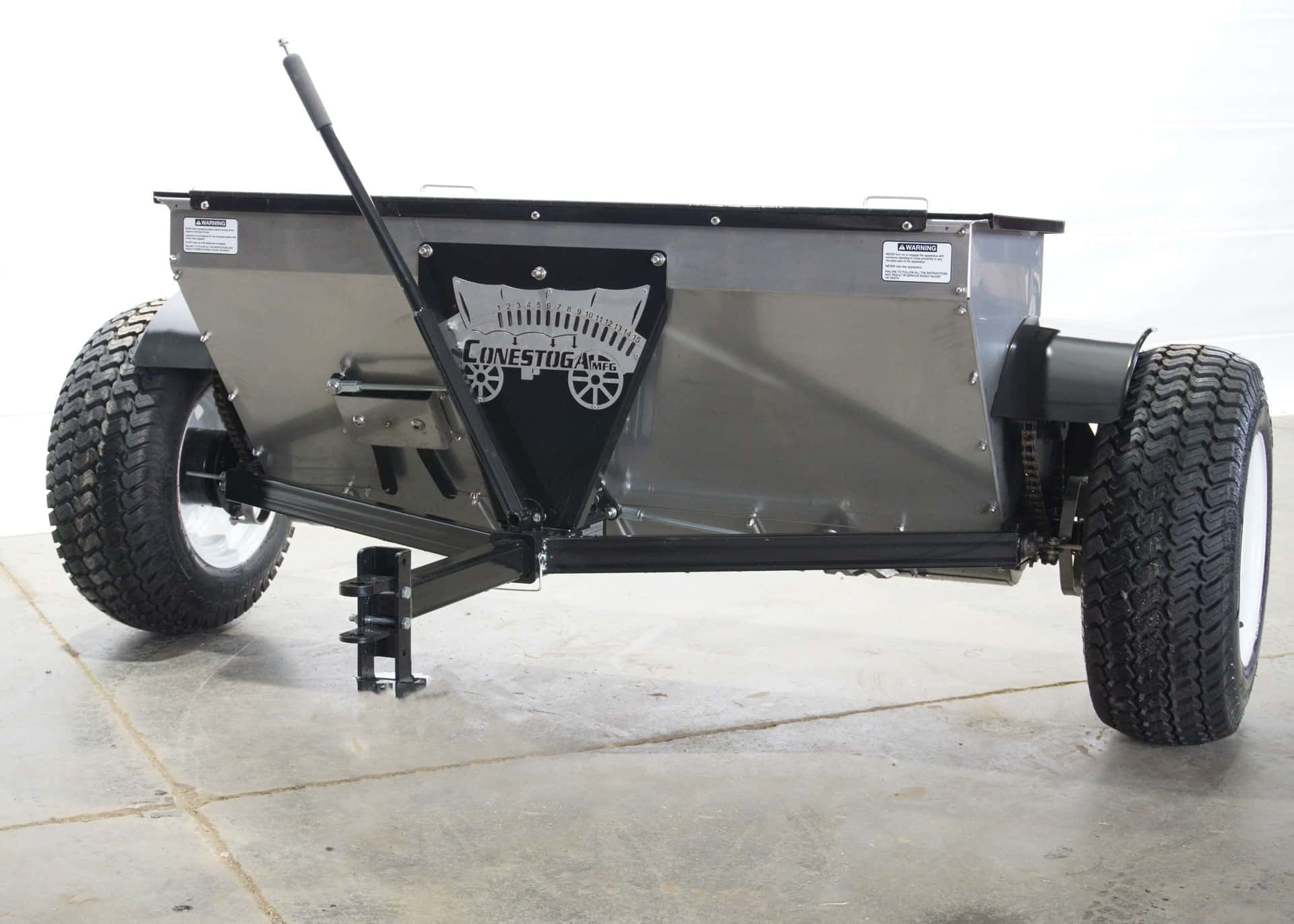 The DSC-4800 is the smallest and lightest drop spreader available from Conestoga. It has on overall spread width of 48 inches or 4 feet.
The DSC-6000 is the mid-size drop spreader in our lineup. This spreader has an overall spread width of 60 inches or 5 feet.
The DSC-7200 is the largest and heaviest drop spreader in our lineup. This spreader has an overall spread width of 72 inches or 6 feet.
Conestoga
Ice Control Unit
In Lancaster County, Pennsylvania we know a thing or two about winter weather. If you don't have the right equipment to spread material to combat snow you can get into all kinds of trouble. Our Ice-Control unit is basically a drop spreader with 3-point hitch capabilities and electric control for the spreading system.
Our Ice-control unit is perfect for treating long drive ways, small parking lots, or even side walks. Instead of spreading material by hand in the winter months get one of our machines. You can spend less time spreading and more time sledding (or winning snowball fights).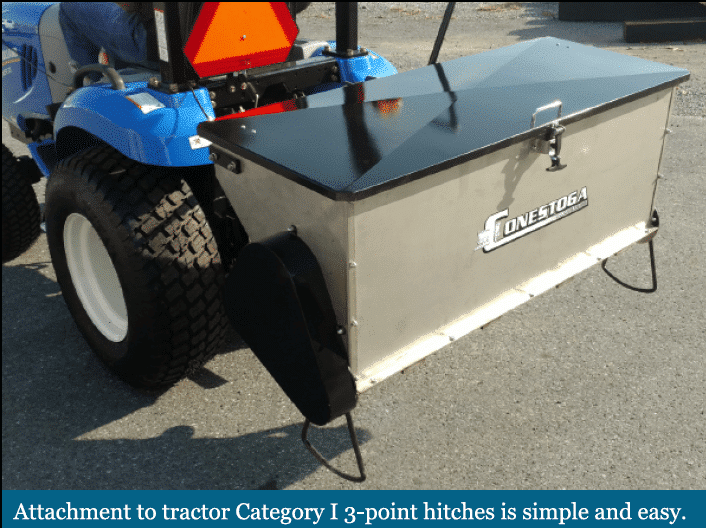 The Ice Control Unit can be used to spreader salt on driveways, parking lots, or sidewalks. It uses 12-volt power from the tractor to control the spreading action.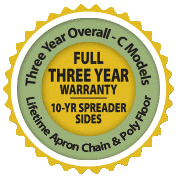 Conestoga now offers a 10 Year Warranty on its spreader sides, a 3 Year full warranty on all C-model compact spreaders, a lifetime guarantee on the polyvinyl floor, and a lifetime guarantee on the stainless chain.
These warranties do not cover mishandling or abuse of the product.
We Support a Charity with each purchase:

Conestoga Mfg. supports a local, non-profit organization that uses horses for the good of humanity. This organization is Greystone Manor Therapeutic Riding Center (GMTRC), PO Box 10724, Lancaster, PA 17605-0724, a non-profit organization that has been providing quality equine assisted activities for children and adults with special needs since 1981.Conestoga has agreed to partner with GMTRC and to pay them a portion of its income from each spreader sold.